Cooler Master MasterAir Pro CPU Heatsink Roundup
Author:

Dennis Garcia
Published:
Monday, October 31, 2016

Cooler Master MasterAir Pro 3
The Cooler Master MasterAir Pro 3 is a 92mm tower style cooler that comes with three heatpipes in a linear configuration. Cooling is handled by a Cooler Master 92mm Air Balance PWM fan with a noise level of 30dBA @ 3000rpm. The fan comes with a two position speed limiter to give you a little more control over total noise output..
Radiator fins are quite thick adding to the quality of the heatsink design and allows them to be direct bonded to the vertical heatpipes leaving the edges clear of any locking tabs. Using thicker metal on the radiator fins does impact heat transfer but is negligible with a cooler this small.
MasterAir Pro 3 features a new core contact heatpipe design that Cooler Master called CDC or "Continuous Direct Contact Technology 2.0" The main feature is how they compress the heatpipes together to provide more surface area at the base of the heatsink and better contact with the CPU.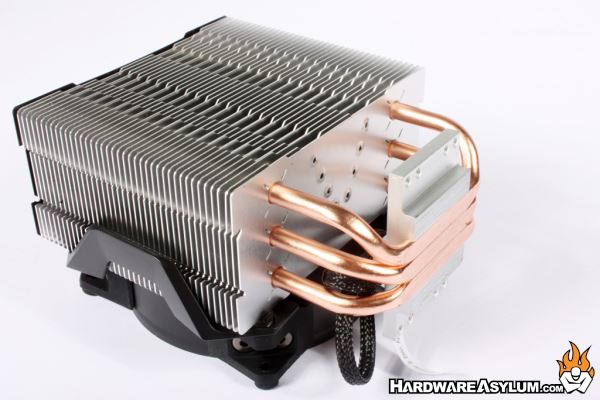 You will notice a couple of patterns on the radiator fins. The first is found around the heatpipes and are a patented technology Cooler Master calls X-Vents. These are very interesting in that they guide heat away from the heatpipe in a specific pattern and also create air pockets to promote cooling at the source. The second is located in the middle of the radiator as a pattern of holes and dimples in a "V" configuration. These help guide airflow towards the heatpipes and promote better cooling.
I have mentioned this many times, for radiators to work efficiently it is important to ensure good airflow but to also provide opportunities for the air to loiter in the radiator and promote heat transfer. Holes, slots and dimples create these opportunities and allow the heatsink to operate more efficiently.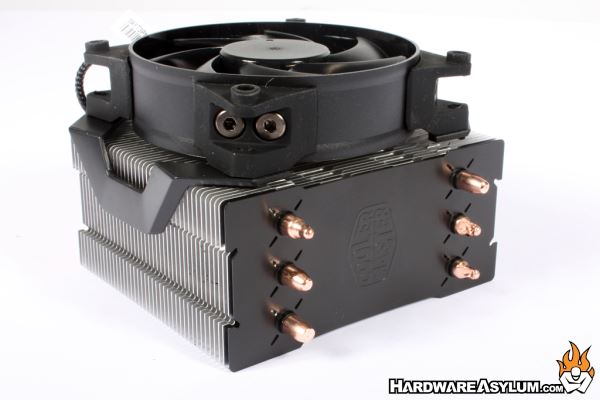 The top of the MasterAir Pro 3 features a black cover plate with a Cooler Master logo stamped into the metal.