Cooler Master MasterAir MA612 Stealth ARGB Heatsink Review
Author:

Dennis Garcia
Published:
Monday, October 4, 2021

Conclusion
The great thing about aircooling a CPU is how affordable the cooling solution is both with initial purchase and throughout the lifespan of the PC. Coolers like the Cooler Master MasterAir MA612 Stealth ARGB are easy to install and require very little maintenance aside from an occasional dusting to clean the fans and radiator. AIO cooling solutions have gotten extremely good over the years but tend to cost more, can be difficult to install and are much more difficult to clean. For these reasons we continue to have high-quality air coolers on the market and still recommend them for budget minded systems builders.
The Cooler Master MasterAir MA612 Stealth ARGB is a six heatpipe cooler that is split to give twelve independent connections with the radiator. You will get two 120mm Sickleflow ARGB PWM fans offering 27 dBA while pushing 62 CFM at 1800 RPM. The lower RPM and fan size seem to be perfectly matched for this heatsink and strike a nice balance between noise and cooling performance.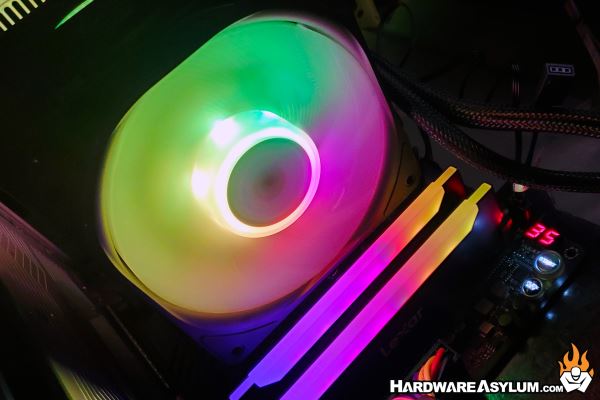 In our tests the MA612 was able to handle the mild 5.1Ghz overclock from our Core i9 10900k and still had some thermal headroom based on the drop in the C/W rating. Of course, overclocking performance depends on the workloads, ambient temperature and how aggressive you set your fan curves. In this review we used Prime95 to simulate a workload and used the default "Turbo" fan setting in the Maximus UEFI.
Overall, the MasterAir MA612 is a pretty basic heatsink that has been refined to be very stylish cooler and deserving of the Stealth name. Now, when you think "Stealth" the common reaction is to think that you won't see the cooler and in a way that is correct. This cooler is completely black (likely where the name came from) and aside from the ARGB fans and the inlaid Cooler Master Logo you will not see this cooler which, is fine.
A modern PC build is typically sorted by RGB or Non-RGB. For the anti-RGB crowd they want a cooler that you will not see OR is highlighted in some way. The MA612 Stealth attains those goals and the MA612 Stealth ARGB does the opposite for the RGB folks. Combine that with some above average performance and silent operation and you have a very well-rounded cooler and solid AIO alternative.
Good Things
Excellent Performance
Six Heatpipe Solution
Compact 120mm Design
Easy Installation
Offset Design to Clear Memory
Badass Black Color Theme
Custom ARGB Fans
Bad Things
Plastic fan clips sometimes fail to clip
Hardware Asylum Rating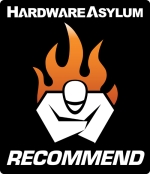 Cooler Master MasterAir MA612 Stealth ARGB Heatsink Review
Recommend
https://www.hardwareasylum.com