Cooler Master MasterAir MA612 Stealth ARGB Heatsink Review
Author:

Dennis Garcia
Published:
Monday, October 4, 2021

Introduction
One thing I have learned from reviewing heatsinks is that there is no single best cooler design. There ARE classic configurations that perform extremely well and, there are heatsink designs that have stood the test of time due to their cost effectiveness, performance or popularity. However, with every new heatsink release there is often a strong desire to make it different either to keep up with current trends or to tweak something in cost or performance.
The Cooler Master 612 name has been around for a long time and while I would like to think the numbers indicate heatpipe count and fan size I'm sure there is a much more technical explanation behind it all.
In this review we will be looking at the Cooler Master MasterAir MA612. This is an RGB enabled dual fan 120mm heatsink sitting on a single tower design with a total of six heatpipes divided across the coldplate at the bottom.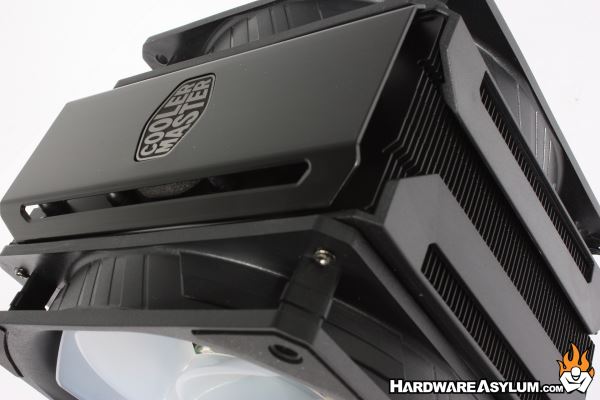 This is not the first CM 612 I have reviewed with the first being the Hyper 612 back in 2011 that was a take on a dual tower design that was rotated 90 degrees with only a single 120mm fan and a whole lot of surface area.
The MasterAir 612 is a little different and is following a more traditional design. Each of the twelve heatpipes is scattered throughout the radiator and oriented into three columns and positioned in the high flow sections of the radiator. This configuration matches many classic heatpipe towers including the Cooler Master TPC 812 minus the vapor chamber.
You will also notice the asymmetrical layout that shifts the tower to one side giving you more memory module clearance.
One of the most important aspects of any heatipipe cooler is the cold plate or, base plate where the heatpipes make contact with the CPU. I have found that coolers with more material tend to handle hotter processors while the core contact designs react faster to load changes but, tend to reach their thermal limit rather quickly.
The MA612 comes with a very unique cold plate that is not only made from thick copper but comes with a finned aluminum mounting bracket for that extra thermal mass.
As this is a RGB enabled heatsink you will get two ARGB SickleFlow 120mm fans. These have the RGB light ring in the middle and seem to be one of the most popular fan types being used on every Cooler Master product from Cases, Heatsinks and even AIO coolers.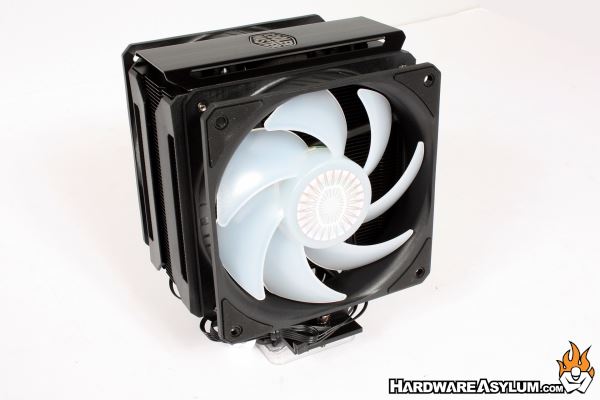 Keep in mind that one of the included fans is a reverse flow fan that is designed to pull air from the heatsink without showing the ugly fan motor. Given that both fans come "pre-installed" just make sure you install them back to the same side.
If your motherboard or chassis does not have an RGB controller you can use the included control box to trigger some sweet color combos. However, the best way to use the ARGB fans is to use any 3-pin digital RGB header and configure the patterns to match the other items in your build.