Cooler Master MasterFan Pro 120 Triple Fan Roundup
Author:

Dennis Garcia
Published:
Wednesday, October 05, 2016

Introduction
A fan is a very basic device that is designed to do one thing, move air from one location to another. In the computer world we use them to facilitate heat transfer from a "heat source" to the atmosphere which can be anything from the heatsink on your CPU to keeping the inside of your case cool. For most people a fan is a fan and yet companies build them to specialize in certain tasks. Sometimes these features are nothing more than a name while others can actually impact performance.
In this review I'll be looking at three new fans from Cooler Master called the MasterFan Pro. This fan series is comprised of three fan types which will in turn satisfy all of the major cooling segments of the market.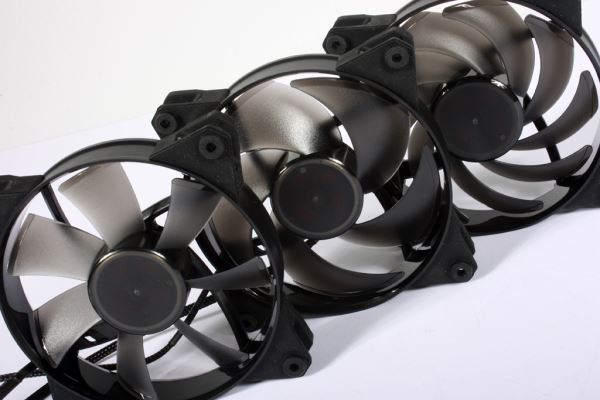 These include
Cooler Master MasterFan Pro - Air Flow: This fan is designed for situations where you need to move a good amount of air in an unrestricted space such as the Intake and Exhaust fans of your computer case.
Cooler Master MasterFan Pro - Air Balance: This fan is a universal design that favors silent operation. It features a large number of fins and works equally well on a heatsink as it does on a case.
Cooler Master MasterFan Pro - Air Pressure: This is a monster fan designed to deliver the best cooling performance when space is limited and restrictions are high. Radiators and high performance heatsinks are a prime example.
To help minimize vibration noise each MasterFan comes with rubber mount corners. These mounts accept the larger tap style fan screws for direct mounting and will accept longer screws typical of radiator installations. Given that the corners are rubber they do have some flex and will deform when mounted.
Each MasterFan Pro comes with a three position speed limiting switch. The default configuration is S Mode for Silent and will limit the maximum speed the fan will spin. If your situation requires more cooling then adjusting this switch will be the first thing you check.
Personally I like the idea of a speed limiter however being a cooling enthusiast I much prefer running things uncorked. Modern motherboards come with ways to adjust the PWM fan curve and if adjusted correctly will give you both a silent running system by day and performance monster by night.
The fan tails on the Cooler Master MasterFan Pro are fully sleeved and feature heatshrink near the 4-pin PWM power plug.