Cooler Master MasterFan Pro 120 Triple Fan Roundup
Author:

Dennis Garcia
Published:
Wednesday, October 05, 2016

Conclusion
Fans are a difficult thing to test and while I have seen some reviewers attach ribbons to simulate airflow that is really a pointless exercise. Likewise I have also seen reviewers test fans under the impression that a better fan will cool better. While this is true you also have to consider that while a certain fan may vent your chassis well there is a good chance it will become noisy when attached to a radiator or heatsink.
In this review I looked at three fans from Cooler Master called the MasterFan 120 Pro. Each one of these fans is designed to address a different segment of the cooling market from silent case cooling up to high performance watercooling and everything in between. To complement their individual designs they all come with a three position speed limitation switch that will restrict how fast the fan can spin and thus how much noise it will produce.
As my testing has shown fan RPM plays a huge role in the overall cooling potential of a fan and while you can tune your fans using UEFI PWM controls there is something satisfying about flipping a switch and getting back to something important.
I was also surprised at the difference between each of the fan styles and how they complimented each other. For instance Air Balance can be used as either a low speed case fan or ramped up to run well on a CPU cooler. The Air Pressure fan was also very impressive both in looks and performance, It wouldn't work well as a case fan but should be your first choice for any radiator you plan to install. Speaking of installation every MasterFan Pro comes with rubber mount corners to completely isolate fan vibration from whatever it is attached to. The only real downside is that the corners deform making it difficult to get a solid connection.
The MasterFan Pro series is available in both 120mm and 140mm fan combinations. Air Flow and Air Pressure are available in both 120mm and 140mm trim while Air Balance is currently a 120mm exclusive.
Good Things
Fan Speed Limiter Switch
A Style for Every Cooling Need
Sleek Black Frame
Rubber Mount Corners
Braided Fan Tail
Performance Set Based on Noise Level
Bad Things
Rubber mount corners
No LED option
Have to remove the fan to change speed limits
Hardware Asylum Rating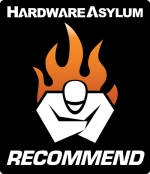 Cooler Master MasterFan Pro 120 Triple Fan Roundup
Recommend
https://www.hardwareasylum.com