EVGA RTX 2080 Ti Kingpin Hydro Copper Review
Author:

Dennis Garcia
Published:
Friday, October 25, 2019

Introduction
In this review I'll be looking at the new full coverage Hydro Copper waterblock for the EVGA RTX 2080 Ti Kingpin edition. Waterblocks for EVGA video cards are not a new thing. In fact EVGA was one of the first companies to offer their Hydro Copper waterblocks from the factory stretching back to the GTX 470 and GTX 480 days. These were often sold as accessories that required the client install them.
My first introduction to the EVGA Hydro Copper was with the GTX 780 Classified. These factory waterblock were sourced from Swiftech and featured a full coverage design and simple graphics. Overall they had decent performance and were available as a factory installed option or as an aftermarket accessory.
Later versions of the Hydro Copper were sourced from EK which not only increased performance but allowed users to use many of the EK accessories like the Multi GPU distribution blocks while still retaining a distinctively EVGA style.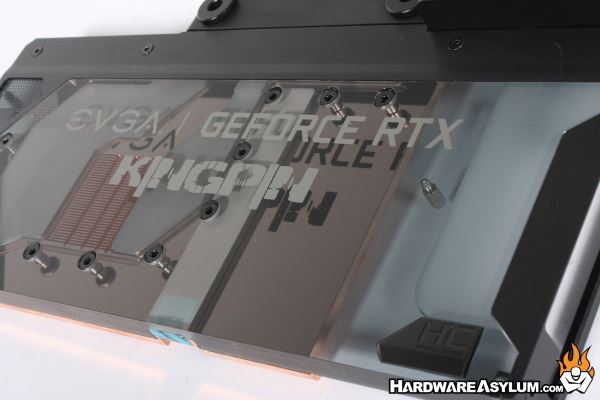 The block featured in this review is a new design created by EVGA specifically for the RTX 2080 Ti Kingpin Edition and the unique features of that card.
However, to get better acquainted with the waterblock we should first start with the RTX 2080 Ti Kingpin and its unqiue features.
The new RTX 2080 Ti KPE features a hybrid cooling solution where part of the card is passively cooled while another is actively cooled. The GPU features a AIO style watercooler that pumps water to a dual fan 240mm radiator.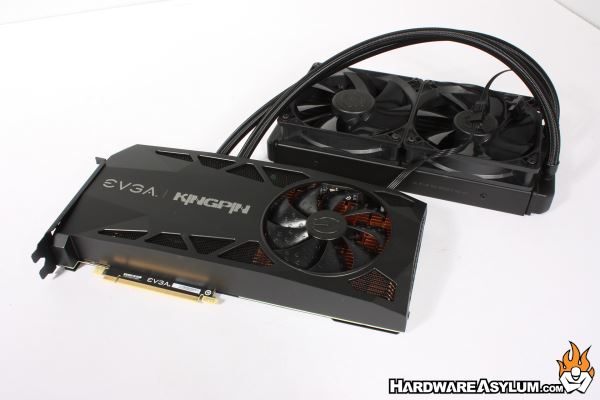 This design is completely self contained where power from the video card will run the pump and fans leaving you with the task of mounting the radiator. Along the back of the card you'll find three 8-pin PCI Express power connectors, another 4-pin fan connector, EVBOT plug and a USB port.
While EVBOT has been off the market for many years I'm glad to see that EVGA still includes the port for us hardcore overclockers.
The IO part of the video card features the standard connections with three Display Port and a single HDMI. You'll find the USB Type-C connector for your VR Headset.