EVGA RTX 2080 Ti Kingpin Hydro Copper Review
Author:

Dennis Garcia
Published:
Friday, October 25, 2019

EVGA Hybrid Cooling Explained
As I explained before many of the Hydro Copper waterblocks are sold as accessories and required the customer to install them. The waterblock for the KPE is no expectation and while there are EVGA RTX 2080 Ti solutions sold with a Hydro Copper block installed that isn't an option with the KPE.
The majority of users buying this card will be buying it for LN2 overclocking or will simply use the card in factory form. It is quite expensive afterall and there are plenty of other options available that are better suited for a DIY watercooling loop.
Needless to say, I'm not a majority user and to install the Hydro Copper we must first remove the Hybrid cooler.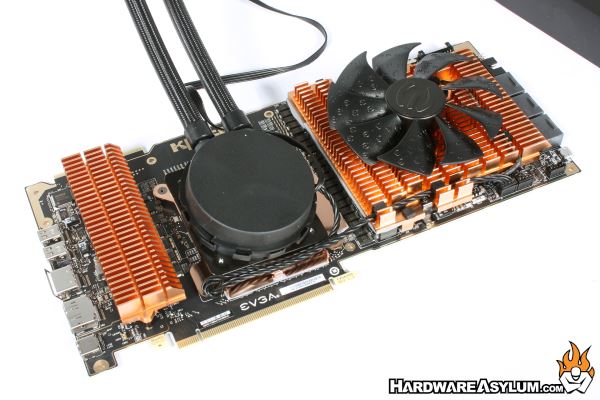 Without going into too many details the process is quite simple. First you remove the aluminum fan shroud that is held in place with several micro screws. They are accessible from the back of the card with one under a sticker.
Once the shroud has been removed you'll be presented with the three cooling options available on this card. The copper bits are VRM coolers and are held down with only a couple screws while the AIO pump block features the customary spring screws.
What really surprised me is that the GPU Cooler was designed to make contact primarily with the GPU while the edges of the cold plate made contact with the memory heat spreader.
The EVGA RTX 2080 Ti Kingpin comes with a OLED screen that will display vital stats and animated pictures depending on what you have configured in the Precision X1 software. You'll find the screen along the top edge of the card near the voltage test points.
Take care removing the aluminum fan shroud because this screen installs directly to the pins on the video card PCB and they could easily be damaged.
With the coolers removed you can see just how complex the 2080 Ti KPE really is.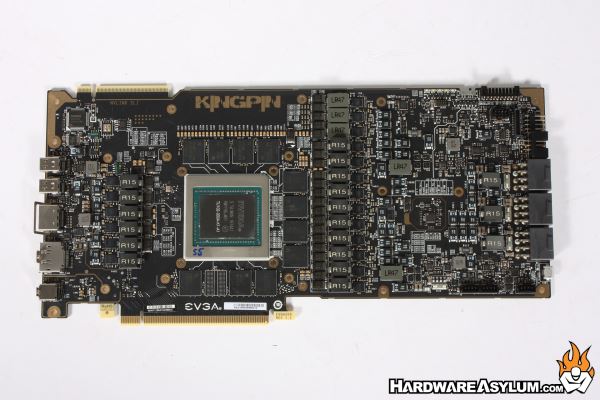 It really is a monster of a card and designed such that no modifications need to be preformed to run this card under LN2. Swap in a special BIOS, strap on a LN2 container and use the super secret software voltage tool to make the final adjustments.
Then when you are done, clean up the card, reinstall the cooler and play some games.