EVGA RTX 2080 Ti Kingpin Hydro Copper Review
Author:

Dennis Garcia
Published:
Friday, October 25, 2019

Benchmarks
The System as it was Tested
MSI X299 Gaming Pro Carbon – X299 Chipset
Intel Core i7 7740x (4.3Ghz) Quad Core 4 x 1MB L2 Cache 8MB L3 Cache
Thermaltake Water 2.0 Extreme
2x GSKill TridentZ PC4-27700 8GB DDR4 (16-18-18-38)
Patriot P200 512GB SSD
HP dvd1260i Multiformat 24x Writer
Thermaltake Toughpower Grand 1050 Watt PSU
Windows 10 Pro 64bit
Video Cards
EVGA RTX 2080 Ti Kingpin Edition
Cooling Methods
EVGA Hybrid 240mm
DIY 240mm (XSPC Photon 170 D5, 7/16 ID Compression Fittings, Alphacool 240mm Radiator, 2x Noctua NF-F12 Fans)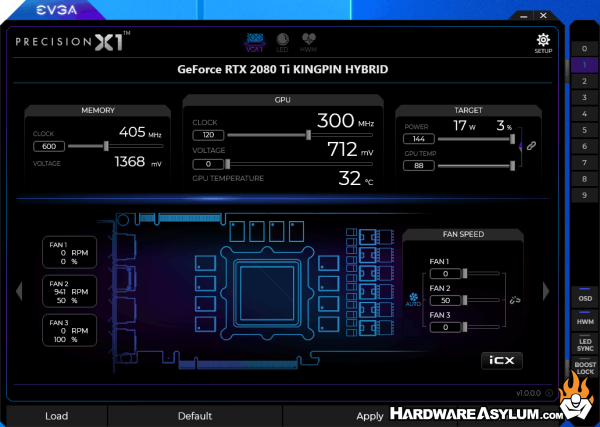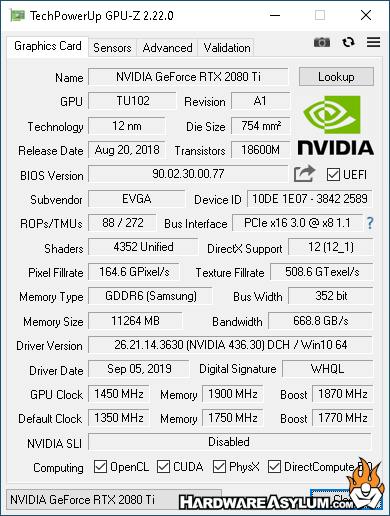 Firestrike Extreme Stress Test with 10 loops was used to simulated a repeated load condition and temperatures were recorded using EVGA Precision X1 with thermal data written to a file.
The following data points were captured
GPU Clock
GPU Memory Clock
GPU Temperature
GPU MEM Temp 1
GPU MEM Temp 2
GPU MEM Temp 3
GPU PWR Temp 1
Each cooler was run at default speed using the factory overclock from EVGA (2025Mhz Core and 7000Mhz Memory) and again using a overclock of (2100Mhz Core and 7600Mhz Memory)
Ambient temperature was 24c and was maintained throughout the testing process.
Default Speed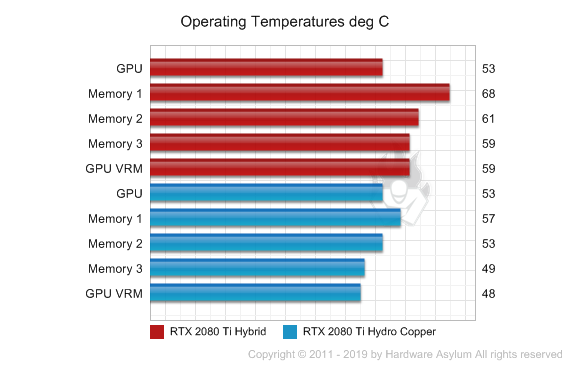 Overclocked
For this next test the video card speed was cranked up to 2.1Ghz and the test was re-run.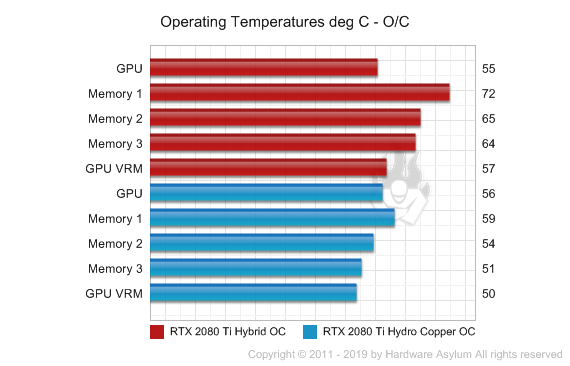 Overclocking Conclusion
The two temperature charts look very similar. With the Hybrid cooling solution overall GPU temperature was lower and this is to be expected considering that the AIO was only cooling the GPU and putting less load on the radiator.
Memory and VRM temperatures were considerably higher with the Hybrid solution given that passive heatsinks are not as efficient.
Switching over to the Hydro Copper block you'll see that we still have spikes with the memory temperature however the entire card is much cooler thanks in part to the entire card being cooled instead of just the GPU. The temperature delta between the Default and OC tests was also less with the Hydro Copper card, again because the only watercooled part of the card was the GPU.