SilverStone IceGem 280 ARGB AIO Cooler Review
Author:

Dennis Garcia
Published:
Monday, April 26, 2021

Installing the IceGem 280 ARGB
Installing the SST-IG280-ARGB is very straight forward and comes out of the box configured for Intel systems. For this review I will be using the ASUS ROG STRIX TRTX40 E-Gaming motherboard using the TRX4 LGA Threadripper platform with a Threadripper 3960X processor. The hardware required to install this cooler on any modern platform is shown below.
The process of installing a custom cooler on a TRX4 socket is similar to the Intel LGX 20XX using threaded bosses around the socket. I would suggest locating the mounting bracket and setting it aside, for Threadripper it is the big one.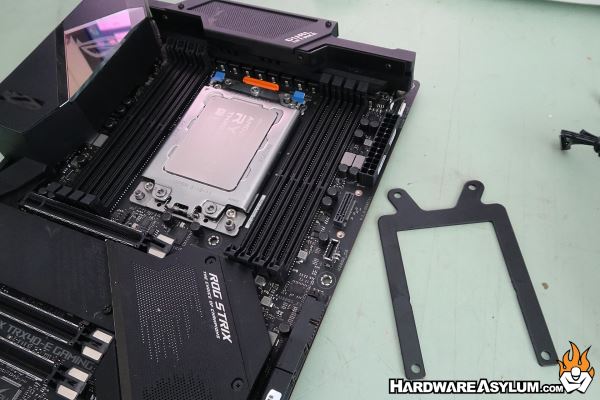 Next locate and install the threaded standoffs. These will thread into the heatsink mounting holes and only need to be finger tight. Btw, these look similar to the LGA20XX parts so pay attention to the package you open.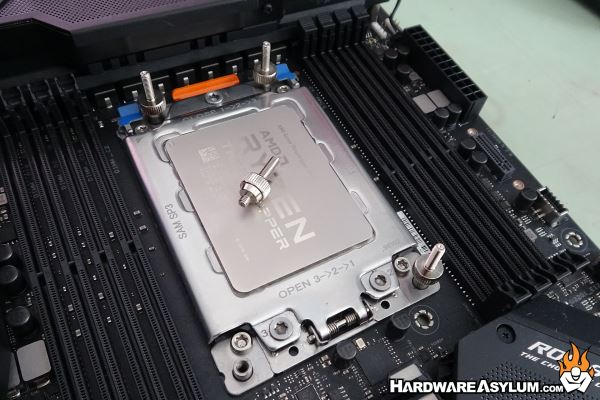 Due to the size of the Threadripper HIS you need to use a different method for your thermal paste. I have been using the "dot" method for years and will strongly urge everyone else to do the same. The "messy" pattern you see here is a suggestion from Noctua which is nothing more than an expanded 5-dot method.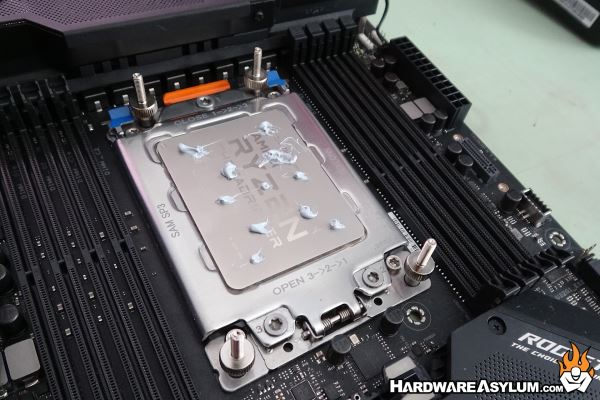 As always, the paste is Noctua NT-H2 which is some of the best you can buy.
The final step is to install the mounting bracket to the pump block and place it over the posts you just installed. There are four spring nuts used to secure the cooler. Tighten these in an X pattern, one turn at a time, until they bottom out. That will ensure even pressure across the entire cooler.
Install the 140mm fans, hook up the wires and you are done!