SilverStone IceGem 280 ARGB AIO Cooler Review
Author:

Dennis Garcia
Published:
Monday, April 26, 2021

Introduction
When Threadripper 3 was first released I had scrambled around looking for appropriate coolers for the new platform and while the processor came with a mounting bracket for Asetek AIOs I wanted something better. Of course, the best solution is a full DIY water loop which gives you options to dial in your level of cooling from radiator size down to coolant choice and brand of waterblock.
For the hardware enthusiast this is a dream come true but, assembling a DIY water loop takes time and can be quite expensive. For most users that can be a problem since many would rather assemble the machine and start crunching threads. For these people a quality air cooler or AIO watercooler is a preferred option.
In this review we will be looking at the IceGem 208 ARGB from SilverStone. This is an AIO liquid cooler that is specially designed for the demands of the Threadripper platform while still giving you the option to run it on mainstream systems as well. As the name suggests this cooler features a 280 or dual 140mm fan radiator and the IceGem name is a reference to the faceted lens covering the pump block.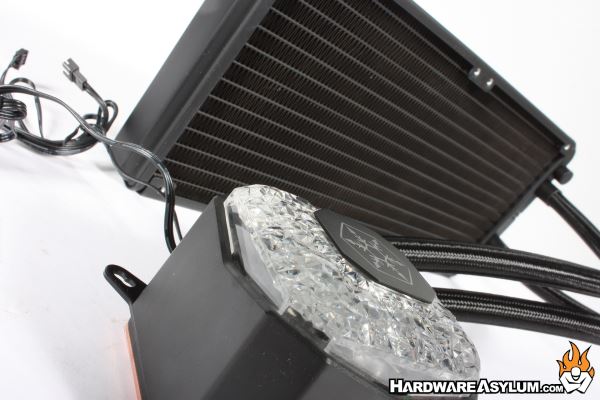 What makes the IceGem unique is the pumpblock. The "Scintillating" design perfectly frames the SilverStone logo while also offering faceted edges for ARGB lighting to reflect off of. This is a dramatic change from other designs that are simply plain and boring. In fact, if you matched this cooler on a system using GSKill Royal memory modules you would get a double dose of ARGB facets.
The other major feature of the IceGem pump block is the overall size. Most AIO coolers are sized to fit the common retail processor platforms including AM4 Ryzen and LGA 1XXX. Some are enlarged to accommodate LGA 20XX but the majority fall somewhere in the middle. The IceGem is considerably larger featuring a 76mm x 76mm (three inch square) contact patch that will effectively cover the entire Threadripper IHS.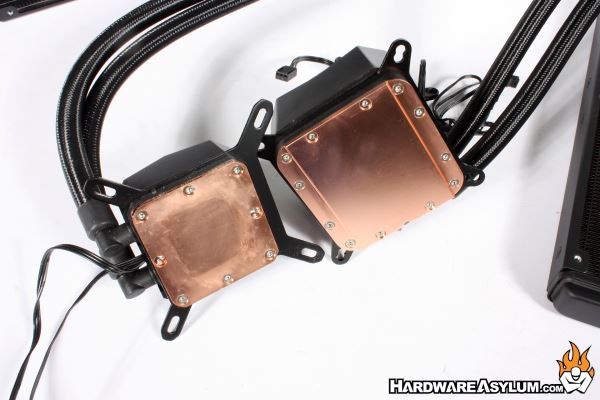 As a comparison I have the SilverStone Permafrost PF240-ARGB pictured on the left with the IceGem 280-ARGB on the right allowing you to clearly see the difference.
As with most AIO coolers the pump base is a solid piece of copper and features a micro texture. The finish is bright but not very reflective and helps to promote proper thermal paste dispersal. Under the copper cold plate you'll find an upgraded 6-pole motor designed for smooth and quiet operation when compared to other designs that typically feature a 4-pole design.
The radiator is a 280mm that appears to be the same design found on the PF (Permafrost) coolers featuring the same dense fin array and thick braded hoses. These hoses are really quite good both at preventing kinks and help to balance the cooler to giving it a DIY look.
SilverStone has included their 140mm ARGB fans that feature rubber vibration dampers and translucent centers. Each fan blade features a trailing edge to prevent noise and feature PWM motors for quiet operation and on demand performance.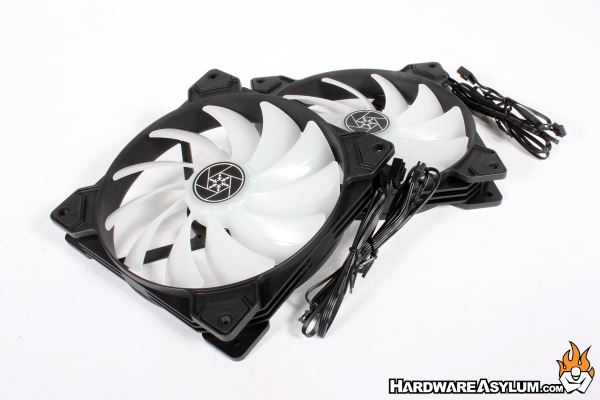 Each fan features an RPM range between 600-1600RPM and will push 99.2 CFM while running full tilt with a modest noise profile between 9.8 and 23.4 dBA.