SilverStone IceGem 280 ARGB AIO Cooler Review
Author:

Dennis Garcia
Published:
Monday, April 26, 2021

Conclusion
Proper cooling has always been an important factor when building a computer and the general rule of thumb is to keep things cool for maximum component life and overall performance. This has become even more important given that processors will start to throttle when they become too hot. This slows everything down and can lead to component failure.
In this review we looked at the IceGem 280 from SilverStone. This is a special AIO liquid cooler in that it has been designed for the AMD Ryzen Threadripper. It comes with a large 76mm x 7xmm cold plate and improved 6-pole pump motor for smooth quiet operation.
Installation was extremely easy as it followed many well-established patterns. The Threadripper TRX4 socket is similar to the Intel LGA 20XX in that heatsinks are mounted using the threaded bosses around the socket. You simply install a threaded standoff and then mount the cooler. SilverStone has made the process extremely simple with all the parts clearly labeled.
Overall performance was extremely good offering typical temperatures that fit exactly where you would expect when compared to air cooling and a full DIY watercooler. During my tests I found that the pump does make brief "spin up" noise when the system powers on but quickly became dead silent.
The thick hoses do make installation a little difficult in that they are not very pliable. Normally this is a desired quality but, I found it difficult to get the radiator placed where I wanted it to on my test bench. Given the twists needed to install an AIO in a chassis I might suggest mounting the radiator first and then focus on installing the CPU cooler.
To make the RGB work you need to run ARGB wires to both the pump block and cooling fans. These are then hooked into the included ARGB controller or can be wired directly into the motherboard using a standard digital 3-pin header. The lights do require external power which is supplied through an included SATA power plug.
As with most ARGB projects running the wires is the worst part so be sure to dedicate some time to the process. The incuded RGB wires seem to have a mind of their own and seem to require ties to keep them in place.
The SilverStone IceGem is available in a variety of different sizes including the 280mm featured in this review, a smaller 240mm (dual 120mm fans) and a larger 360mm (triple 120mm fans). Each cooler features the same large pump block allowing you to better match the cooler to your case selection.
Good Things
ARGB Lights
Excellent Cooling
Solid Installation
Braided Hoses
Large Coolant Lines
Dual Chamber Pump
6-Pole Motor
Easily Hooks into Motherboard Lighting Systems
Bad Things
Lots of wires to run
RGB controller is rather simple
Hardware Asylum Rating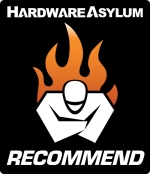 SilverStone IceGem 280 ARGB AIO Cooler Review
Recommend
https://www.hardwareasylum.com