Thermaltake Toughliquid Ultra 360 AIO Watercooler Review
Author:

Dennis Garcia
Published:
Thursday, August 18, 2022

Toughliquid Layout and Features
As was mentioned before, the Thermaltake Toughliquid Ultra is virtually identical to the previous edition with one major difference. Instead of a mirrored light panel on top of the pump block you will find a 2.1" TFT-LCD display with a 480x480px RGB graphics resolution. This screen can display a number of different things from basic system information to static and animated images.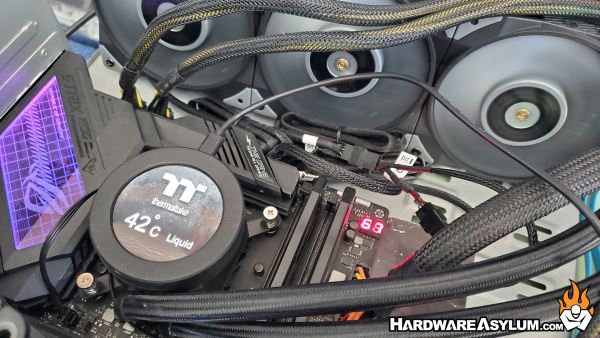 It should be noted that the top cover can be rotated so that the graphics are always positioned in the orientation you want. This is an important feature when you consider the Micro USB cable used to deliver data and graphics to the LCD display.
The base of the cooler is brushed copper with the standard surround of screws. While the cold plate is not reflective or polished the micro texture does a great job at distributing thermal compound. This can be important when installing your cooler to get consistent thermal results.
While the pumpblock is the star of any AIO cooler the radiator is where the magic happens. The 360mm radiator supports triple 120mm fans and features some rather large diameter hoses with decorative braiding. Typically, the hose diameter can be interpreted in two ways. Larger hoses often support higher flow volumes and/or provide more material to resists kinks allowing for tighter bends if your build requires it.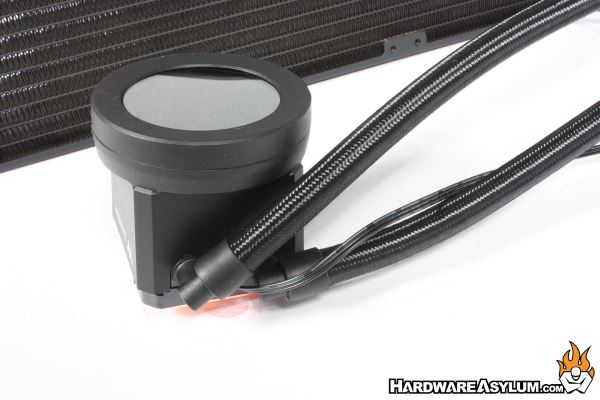 Let's assume, larger hoses for less kinks.
Surface area through a radiator can dictate how efficient the radiator is and what types of fans are needed to provide adequate cooling. To be honest this looks like every other standard, no frills, radiator and, for the most part there is absolutely nothing wrong with that. Radiators like this require no special high-performance fans and the extra space will allow for even more dust to accumulate before clogging.
Speaking of fans, Thermaltake has once again included the new Toughfan 12 with the Toughliquid Ultra. These are variable speed PWM fans ranging from 500-2500rpm fan offering a noise level of 28.1 dB(A) and a max flow rate of 72.69 CFM. The design offers a max pressure of 3.78mm H20 which is pretty good for a 120mm fan.
Of course, I have seen this design before and… I cannot quite place it. I'm pretty sure the fan blades were brown and were designed by a company in Austria. You know, when I finally remember the name, I'll have to do a follow up another article and look at the differences.