Thermaltake Toughliquid Ultra 360 AIO Watercooler Review
Author:

Dennis Garcia
Published:
Thursday, August 18, 2022

Conclusion
There are several things to consider when looking at a self-contained watercooling system. Performance and price are always seem like the most important factors but when you consider that most watercooling units follow a similar formula it is nice to see something different.
The Thermaltake Toughliquid Ultra 360 is a pretty basic heatsink that comes with a number of interesting features. On the surface the pumpblock features a copper cold plate and a fancy TFT LCD Screen. This screen allows you to view system specs, static and animated pictures. The LCD display is controlled by the TT RGB Plus software which is a free download from Thermaltake.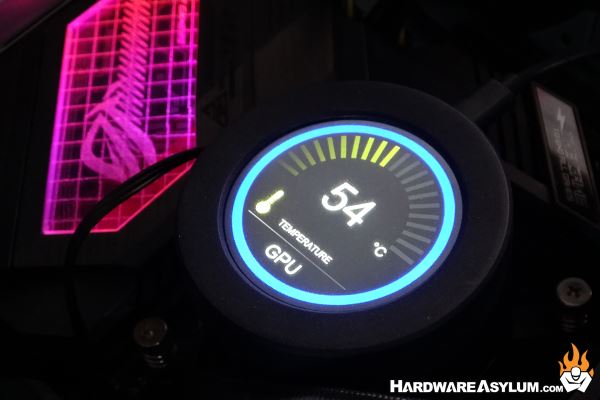 TT RGB Plus is an All in One software package that searches the system for compatible Thermaltake components and allow you to configure and control them as needed. The Toughliqud Ultra 360 is not ARGB enabled leaving the LCD screen as the only controllable feature.
In the software you have options to configure what is shown on the LCD screen including system specs and even animated images and photos. The software comes with a limited selection with more options available online. Or, if you have the skillz you can roll your own and really impress your friends.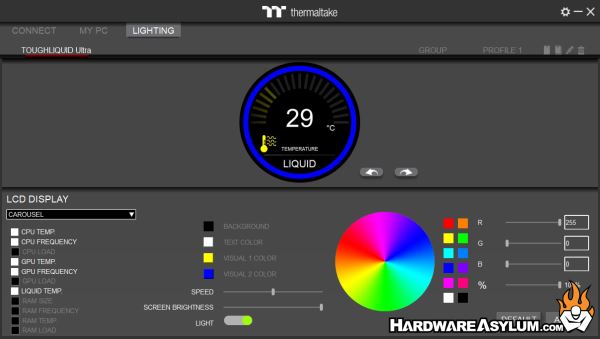 Toughliqud comes with the popular Toughfan 12 cooling fans giving you plenty of cooling performance. Sadly, these fans are not RGB enabled but can be swapped if you need the mad lights in your lif3. Just keep in mind that if you pick Thermaltake RGB fans you can add one more thing to the list that TT RGB Plus can support.
During my testing I discovered that the Toughliquid can handle a fair amount of heat and while our calculation indicated a 206w total load there is more heat that could be generated from Prime95. So much that anything above a stock frequency would cause the CPU to throttle and sometimes crash the system. These are not normal loading conditions but does represent a very real edge condition if you like abusing your hardware.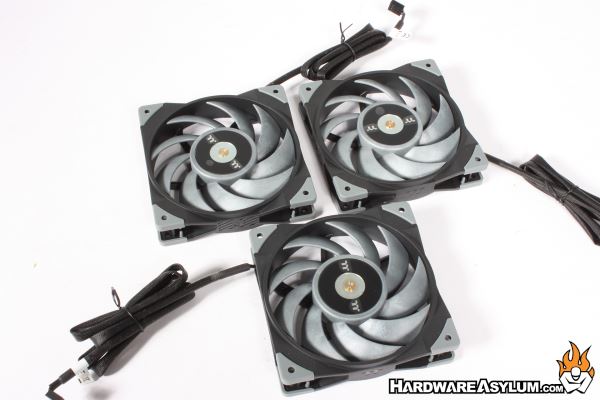 To wrap things up I have to say I'm rather impressed with the Toughliquid Ultra 360 on the Core i7 12900k. It didn't have the lowest temperature of the coolers I tested but, it did respond well to system adjustments and ran extremely well over the two months I had this system running on my test bench. The loads ranged from basic games to several weeks of brute force system tests where the system ran at 100% load and it never throttled.
The LCD screen works as you would expect and while showing system specs seems extremely stupid and pointless, I did find myself watching the screen flip through the temperatures jus to make sure nothing changed. Personally, I like the animated image option and cannot wait until they are able to stream full motion video or even output game stats. Much like the Toughliquid 360 ARGB there is limited RGB features and, for this product I think that is a good decision.
Good Things
Excellent Performance
Large Braided Hoses
TFT LCD Screen on Pump Block
360mm Radiator support
TT RGB Plus Software is Getting Good
Improved Mounting Hardware
Bad Things
Fans are not ARGB enabled
Damn expensive
Hardware Asylum Rating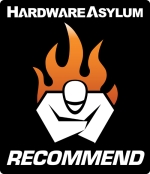 Thermaltake Toughliquid Ultra 360 AIO Watercooler Review
Recommend
https://www.hardwareasylum.com