Patriot Viper V570 and RGB Mouse Pad Review
Patriot Viper V570 and RGB Mouse Pad Review
Author:

Darren McCain
Published:
Friday, December 15, 2017

Introduction
Patriot has long been a go to vendor for high-end performance memory in our competitive overclocking builds. That same blend of high performance and dependability can now be found in their line of competitive gaming peripherals. We first saw the Viper V570 RGB line at CES last year so it is exciting to see the Viper gaming products widely available today.
Today we will be looking at two of their top tier gaming products: the Viper V570 RGB Blackout Edition Laser Gaming Mouse and the matching Viper Gaming LED Mouse Pad. Both products complement each other well through branding and colorful LED lighting. Let's see if the perform as well as they look!
Viper V570 RGB Blackout Edition Laser Gaming Mouse
The V570 RGB mouse is the latest from Viper and builds on the successful V560 Laser Gaming mouse. Viper divides their mice into three levels: Novice, Intermediate and Expert. The Viper V570 series represent the expert level mice.
Expert is defines as: When absolute precision and skill is necessary to dominate the game. The Expert Lineup can keep up with the most intense gaming sessions.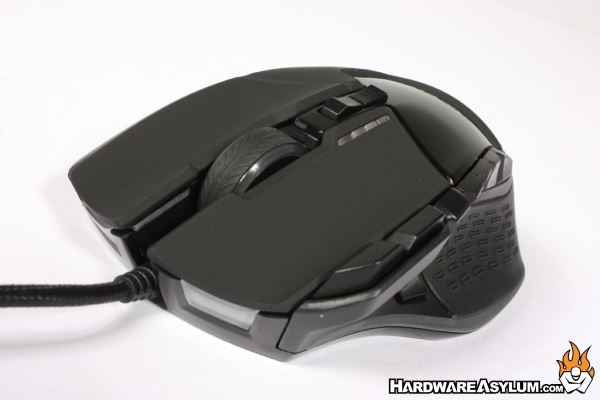 The Viper V570 RGB mouse line can be found in the beautiful Blackout Edition we have today or in a more traditional Patriot red and black version. Both mice are the same under the hood with only the red button accents to differentiate the two. Vipers red and black theme can be founds across their gaming line up including their gaming keyboards and the gaming mouse we will be paring with our V570 today. Build quality is backed by an impressive 2 year warranty.
Let's see what else the MV570 RGB Blackout Edition offers!
Features
Xtreme Precision Laser Sensor
Up to 12,000 DPI
Multi-zone customizable RGB LED management
Advance MMO+FPS all-in-one ergonomics
RGB customizable profiles
13 programmable macro keys
Ceramic foot pads for maximum performance
DPI LED indicator
Adjustable weights of up to 34.2g
Zero Delay
Specifications
8000 DPI hardware/12000 DPI software
Light source: Laser
IPS: 150
Polling rate: 1000Hz
Switch: Omron (10M clicks)
Sensor: Avago ADNS-9800
Controller: Sonix
Founded in 1985 in the San Francisco Bay Area, Patriot is a global leading brand in performance memory, SSDs, gaming peripherals, and flash storage solutions. Patriot is dedicated to being the brand of choice for the tech industry with a high commitment to quality and outstanding customer service. Patriot is committed to creating a better gaming environment for enthusiasts and gamers with the Viper series LED gaming line of products.