Patriot Viper V570 and RGB Mouse Pad Review
Patriot Viper V570 and RGB Mouse Pad Review
Author:

Darren McCain
Published:
Friday, December 15, 2017

Viper Gaming Mouse Layout and Features Continued
For their Expert line, Patriot plants the V570 on five ceramic feet. These provide a longer live than Teflon and glide smoothly on both my favorite glass pad the Viper Gaming LED Mouse Pad.
Patriot advertises the sensor as an Xtreme Precision Laser Sensor but the specs reveal an Avago ADNS-9800 Laser Sensor fulfilling the tracking duties. This sensor supports hardware frame rates from 50 up to 8000 DPI and can interpolate up to 12,000 DPI.
A gold plated ~6 ft. braded cable provides connectivity. The cable comes with a black Velcro cable tie attached. Should you choose the other V570 your cable will be a snazzy matching red and black weave. Patriot even supplies a Ferrite EMI filter (choke) to keep your signal clean.
The Viper V570 has a nice adjustable weight system that can adjust the weight up to 34.2g. The center panel clicks of easily by lifting from the back end. Six 5.6 gm weights can be positioned in the spaces to fine tune the weight to your liking. Patriot even includes an extra just in case!
Thanks to the ceramic feet I found the V570 glide a bit lighter than I am used to and bumped things up by three weights. This mouse really does fly across the mouse pad.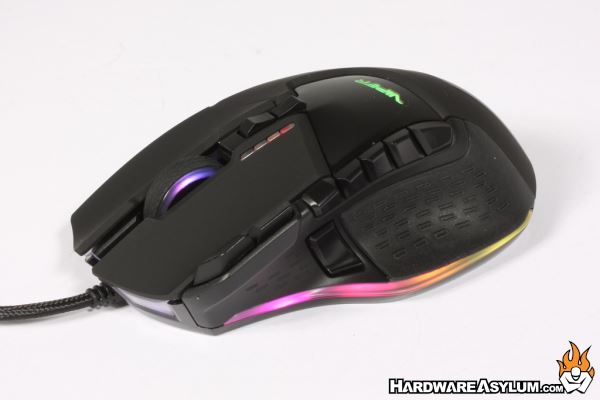 I have reluctantly embraced RGB lighting lately thanks to implementations like the Viper V570. This is a great example of RGB lighting done right! Lighting is divided across 4 zones with only the DPI sensors left to default. You can individually program the Viper text, the mouse wheel, the front two headlights and the left side ground effects. The end result is a subtle accent that never distracts and looks great!