Rosewill RGM-1100 Gaming Mouse Review
Rosewill RGM-1100 Gaming Mouse Review
Author:

Darren McCain
Published:
Tuesday, October 06, 2015

Introduction
Rosewill has been quietly building dependable mice for quite some time. With the new RGM-1100 Gaming Mouse we finally have something that gets our blood flowing! It's a gaming mouse that looks good and doesn't break the bank.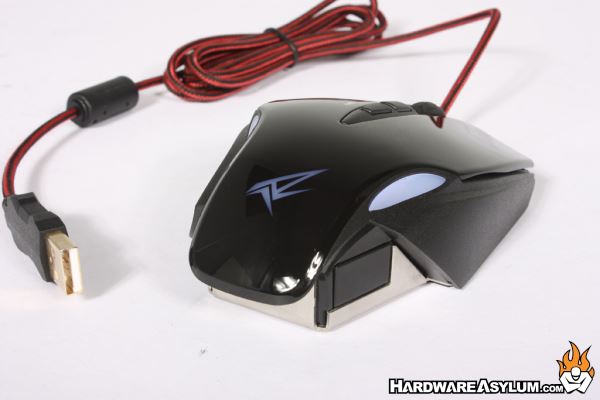 The RGM-1100 Gaming Mouse (Rosewill Gaming Mouse?) builds on the design we first saw in the RGM-1100 by offering a more premium set of features and a modern shape clearly targeted at the enthusiast. Dual textured surfaces and braided cabling provide a nice candy coating around 8200 DPI and Omron switches. And did I mention lighting?
First the specs:
Features
Laser Mouse with 2 Omron Switches
Aluminum Bottom
DPI range : 1600, 2800, 4800, 6800, 8200
Programmable for Buttons
Polling Rate : Dynamic up to 1000HZ
Gold-plated Connector
Specifications
Model: RGM-1100
Type: Wired
Interface: USB
Tracking Method: Laser
Maximum dpi: 8200 dpi
Hand Orientation: Right Hand
Buttons : 7
Mouse Adjustable Weight: 6 weights included
Rosewill may be best known as a part of NewEgg or more aptly as their hardware division but they are striving to establish an identity based on affordably hardware solutions that doesn't sacrifice quality. It's also nice to see the world class customer service is still a bragging point. These days the selection of cases alone makes it a safe bet they will have something you like.