Patriot Viper Gaming 4266Mhz 16GB Blackout Edition Memory Review
Author:

Dennis Garcia
Published:
Wednesday, November 4, 2020

Introduction
In some ways picking memory modules can be as difficult as choosing a processor or video card. If you make the wrong choice you could be limiting your performance options, your upgrade path and may even find them to be ill-suited for your application. Not long ago we reviewed the Viper Gaming 3600Mhz Blackout Edition memory kit. This version of the Blackout Edition memory had a total capacity of 64GB and found them to be quite good as they offered better performance due to increased capacity. The 3600Mhz frequency made them perfect for AMD Ryzen based computer systems but, didn't offer much when it came to overclocking.
For this review we will be looking at a very different version of the Viper Gaming Blackout Edition memory that is designed for performance. This is a smaller 16GB memory kit but features dual XMP profiles and an advertised speed of 4266Mhz. What makes these modules special is that Viper Gaming Blackout modules at speeds of 3866Mhz and higher will feature Samsung B-Die memory chips for better overall performance.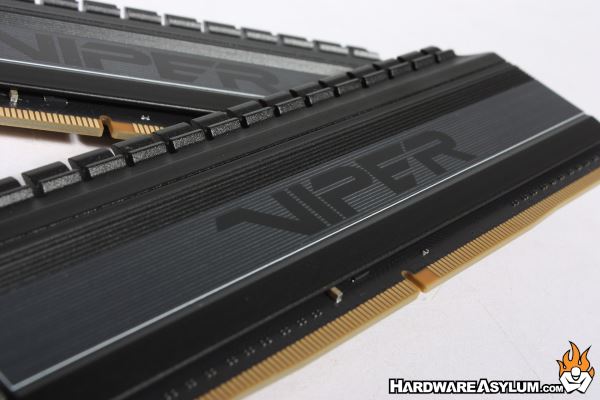 On the surface the two memory kits I talked about are virtually identical. The heat spreader design is unique and features a dual row of cooling fins across the top and two aluminum plates on each side of the module. These modules have no RGB function which keeps the Blackout Edition name relevant.
Viper Gaming Blackout Edition Performance Memory modules are currently available in a variety of different configurations with the current lineup listed below.
Available Configurations
64GB Kits
32GB Kits
16GB Kits
4400Mhz
4266Mhz
4133Mhz
4000MHz
3600MHz
3600Mhz CL17
3200MHz
3000MHz
8GB Kits
The 16GB option is by far the most popular with enthusiasts and offers the best out of box performance with 4400Mhz modules being available provided you have a supported processor and motherboard (Hint: Intel CPU only). I'm not sure why there are still 8GB kits being solid though suspect these might be left over chips that didn't pass the binning process or might be part of a 16GB option for quad channel systems like the X299 and Threadripper.