Patriot Viper Gaming 4266Mhz 16GB Blackout Edition Memory Review
Author:

Dennis Garcia
Published:
Wednesday, November 4, 2020

Conclusion
In this review we looked at the Patriot Viper Gaming 4266Mhz Blackout Edition memory. The Blackout Edition is a performance memory kit designed for both Intel and AMD platforms and is available in a variety of speeds and capacities ranging from 8GB up to 64GB. The modules featured in this review are a 16GB dual channel kit clocked at 4266Mhz with densities of 8GB per module. These modules feature a dual XMP profiles allowing the user to run them at JEDEC recommended speeds or one of the two XMP profiles set for 4133Mhz or 4266Mhz.
The XMP profiles for these modules are very unique. Profile 1 is a standard XMP with a speed of 4133Mhz at 1.35v and timings set to (CL19-21-21-41). This is respectable and what I might consider typical for a 4133Mhz module. By selecting Profile 2 the frequency is bumped up to 4266Mhz with a voltage change of 1.46v. The voltage increase allows the timings to get better at (CL18-26-26-46) which is extremely impressive. The lower CAS number should improve memory performance and gives overclockers a little headroom for additional tweaks.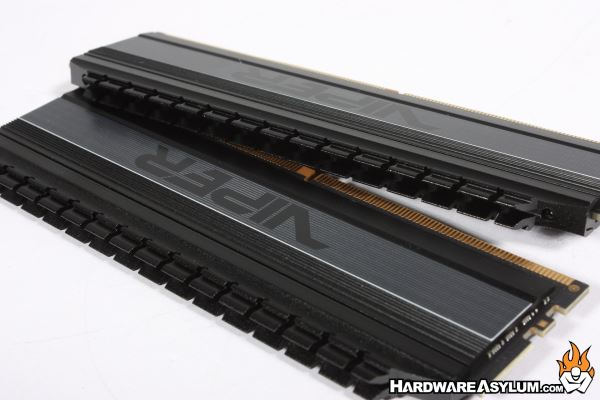 Overall performance was extremely good and very predictable. The single sided 8GB modules responded well in our benchmarks and gave some interesting results with some showing that the 4133Mhz profile was actually faster. As with all high performance memory the subsystem is a key component. For instance, while these 4266Mhz modules will operate on AMD Ryzen based systems the efficiently will suffer due to an infinity fabric mismatch. As there is no XMP profile for 3600Mhz you can either live with the mismatch or roll your own timing profile and save it to the motherboard BIOS.
On the Intel platform you don't have this limitation and can run even the fastest Blackout edition modules at 4400Mhz provided your processor is good enough to handle the overclock. This is where the dual XMP profile comes in handy allowing you to select the alternative profile if you run into stability issues.
For this review I was able to run these modules at 4666Mhz and did so with every little effort. As part of the overclock I set XMP Profile 2 and raised the CAS Latency from 18 to 19 with a few tweaks to the sub timings. To help increase performance I also raised the memory controller speed to 4600Mhz and left everything else alone. The controller speed bump helps getting data in and out of memory a little faster and can help certain benchmarks post higher scores.
I was impressed that even at 4666Mhz I didn't run into a single stability issue even after repeated runs of SYSMark 25 which takes a little over 4 hours to complete.
Good Things
Available in Speeds up to 4400Mhz
Black Goes with Everything
Great Overclocking Performance
Dual XMP Profiles
No RGB LEDs
Bad Things
No quad channel kits available
4266Mhz requires 1.46vDimm
Hardware Asylum Rating