Patriot Viper Venom 7200Mhz DDR5 Memory Review
Author:

Dennis Garcia
Published:
Friday, July 28, 2023

Benchmarks - Synthetic
The System as it was Tested
EVGA Z790 Dark Kingpin – Z790 Chipset
Intel Core i9 13900k (3.0Ghz) Twenty Four Core 8+16 48KB L2 Cache 12+12 x 2MB L3 Cache 36MB
Cooler Master MasterLiquid PL360 Flux
1x nVidia RTX 2080 Super
Patriot P200 512GB SSD
HP dvd1260i Multiformat 24x Writer
Thermaltake Toughpower Grand 1050 Watt PSU
Windows 11 Pro 64bit
Memory Tested
2x Patriot Viper Venom PC5-57600 DDR5 32GB (40-40-40-77)
2x Patriot Viper Xtreme 5 PC5-64000 DDR5 32GB (38-48-48-84)
2x Crucial PC5-56000 16GB DDR5 (46-45-45-90)
CPUz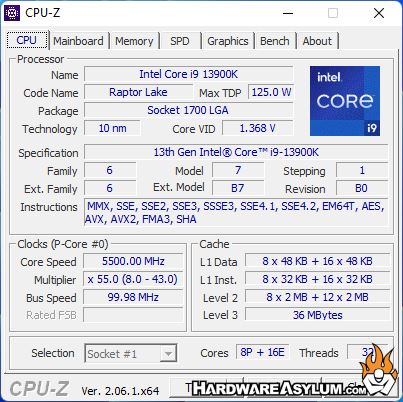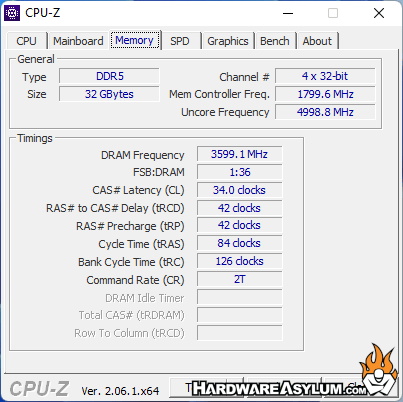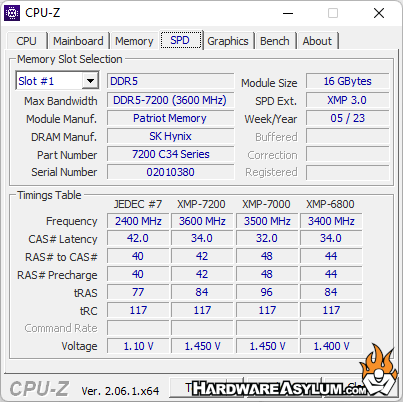 SiSoft Sandra
Sandra is a software collection of synthetic benchmarks that will give us a basic idea as to what a system is capable of. It should be noted that SiSoft numbers change depending on what hardware is being tested. These were recorded using Sandra Professional Version 31.115.2021.12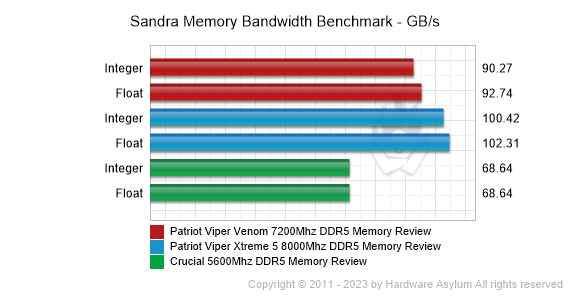 AIDA64 Extreme Edition
AIDA64 Extreme Edition is a streamlined diagnostic and benchmarking software package designed to assist with overclocking and general system tuning. The package also contains modules to assess the performance of the processor, system memory, and disk drives in addition to normal stuff like stress testing and troubleshooting.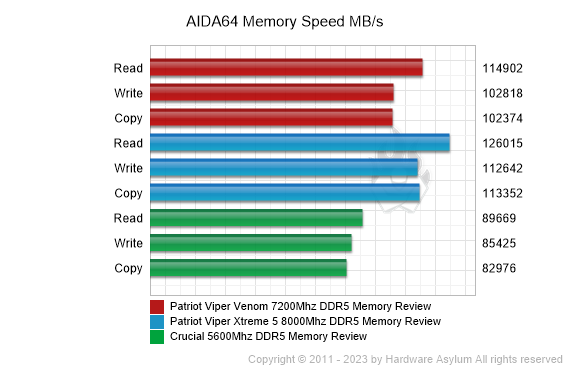 Unigine Heaven Benchmark
Unigine is a synthetic benchmark much like 3DMark Vantage, but supports the newest of DirectX 11 technologies. The benchmark comes with lots of heavy tessellation and soft shadows to work the more flexible shaders found on DirectX 11 graphic cards. This makes this benchmark ideal for seeing exactly what a best case scenario might look like for a DirectX 11 capable GPU.
Benchmark Settings
HWBot Benchmark
DirectX 11 Presets
DirectX 9 Presets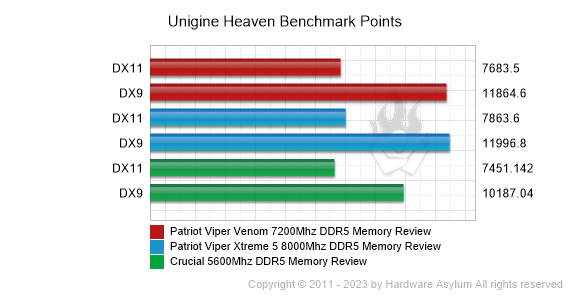 BAPCo SYSmark 25
SYSmark 25 is an application-based benchmark that reflects usage patterns of business users in the areas of Productivity, Creativity and Responsiveness. The new Productivity Scenario has updated workloads and applications geared towards office centric user activities. The new Creativity Scenario features updated workloads and applications geared toward media-centric user activities. The new Responsiveness Scenario models 'pain points' in the user experience. These common activities that include: application launches, file launches, web browsing with multiple tabs, multi-tasking, and background application installation.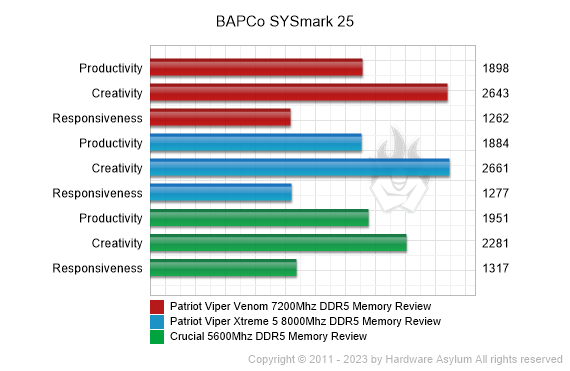 UL PCMark 10
PCMark 10 is an overall system benchmark to measure and compare PC performance using real-world tasks and applications. Similar to 3DMark this new version tests the entire system as a whole using applications that reflect typical PC use in the home and at the office. This approach ensures that PCMark measures the things that matter, highlighting performance differences that will be apparent to end users and consumers.

Benchmark Conclusion
As expected, we are seeing higher performance from the Viper Venom given the higher clock speed and better overall timings. It is interesting to see how flat the performance curves are when it comes to the real world benchmarks such as BAPCo SYSmark and PCMark 10. Memory plays a smaller role in these benchmarks however it can have a profound impact on performance when paired with the right processor.
I should mention that I'm including the Viper Xtreme 5 modules at 8000Mhz in this review because of the results you'll see in the Overclocking section of this review. While the Xtreme 5 modules failed to break the 8000Mhz barrier I had an amazing time pushing these modules way beyond that.