EVGA X299 Dark Motherboard Review
EVGA X299 Dark Motherboard Review
Author:

Dennis Garcia
Published:
Friday, March 30, 2018

Board Layout and Features
The EVGA X299 Dark is an extended ATX motherboard featuring a matte black PCB and gold accents scattered around the PCB and along the edges. You will notice two things right away. The first is an almost full coverage shroud that starts with the I/O connections and extends over the X299 chipset. The second is two small fans sitting on the VRM cooler. For years EVGA was against putting fans on motherboards so it will be interesting to find out why this board comes with them. (Hint: Think Cooling)
Looking at the back of the motherboard we can get an indication as to how the motherboard is constructed, most notability, how the PCI Express slots are wired. From this we can determine which slots are primary and secondary in terms of bandwidth and better understand optimal performance. There are a few surface mounted components near the VRM and chipset. Much like on the front of the motherboard you'll notice several things. First all of the primary video card slots are fully wired, a common thing for EVGA and, Second a very large heatsink over the VRM.
EVGA claims the X299 Dark comes with a 16 phase VRM whereas if you count the chokes you'll only find 13 phases above the CPU socket. The missing three are near both of the memory sockets and one above the PCI Express lanes.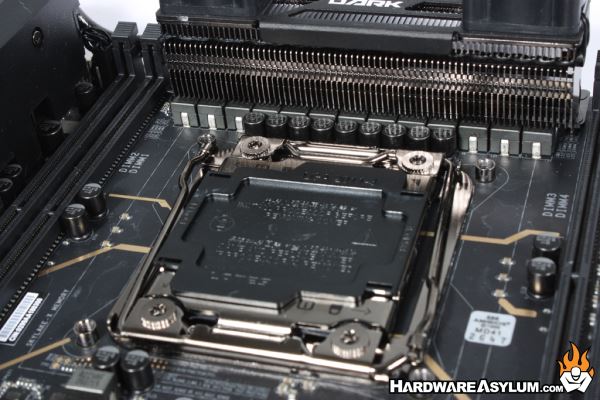 Quad channel memory is a preferred option on the LGA 2066 however some of the processors in the X-Series support quad channel while others only support dual channel. The X299 Dark supports DDR4 modules at speeds up to 4133Mhz+ with a maximum of 64GB addressable. This is highly dependent on your processor as some respond better to high frequency memory than others.
24pin ATX power is located in the traditional location near the upper edge of the motherboard along with a debug LED and optional temperature readout.
Behind the VRM cooler you'll find two 8-pin CPU power connectors with just enough room for cable and finger access to the sockets.