EVGA X299 Dark Motherboard Review
EVGA X299 Dark Motherboard Review
Author:

Dennis Garcia
Published:
Friday, March 30, 2018

Multi GPU Index
The Hardware Asylum Multi-GPU index is a portable set of data we can use to determine the multi-GPU potential of any motherboard. A higher index number indicates a favorable condition for multiple graphics cards while a lower number indicates a hindrance in one of our leading indicators. Since the Index is not dependent on system architecture it can be applied to any motherboard regardless of processor or chipset generations.
Multi-GPU Scorecard (44-Lane)
Index: 5.5
Optimized: 2x
Max Support: 5x
Alternative Multi-CPU Scorecard (28-Lane)
Index: 3.75
Optimized: 3x
Max Supported: 3x
Alternative Multi-CPU Scorecard (16-Lane)
Index: 2.5
Optimized: 2x
Max Supported: 2x
Technologies Supported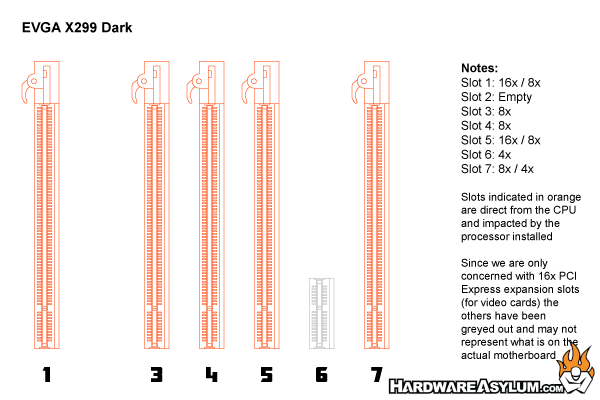 As indicated by the PCI Express layout chart there are a total of five 16x PCI Express slots on this motherboard with three of them are using bandwidth earmarked for video cards and if using a Core i9 this number jumps to five. Slot one will be the primary video card slot and will run at a full 16x when only a single card is installed. With 44-Lane CPUs slot five will also run at a full 16x making it a second primary slot.
For 3-way configurations slot three will be used and is hardwired to 8x due to borrowing bandwidth from slot one. Proper 4-way SLI is supported across slots one, three, five and seven with slot 5 actually running at 16x due to it sharing bandwidth with slot four.
Keep in mind that Nvidia only fully supports 2-way SLI meaning that slot one and slot five will be the slots to use.
Things get a little interesting with 28-Lane and 16-Lane CPUs where you lose available PCI Express lanes at the CPU. Much to my surprise you can still run 3-way configurations with a 28-lane CPU and with a 16-Lane CPU only 2-way is possible given that slot four and five are disabled completely.
For best video performance you will want to pick your slots based on what processor you have installed and how many M.2 drives you plan to run. For instance slot 1 is disabled when running a 16-lane CPU and two M.2 drives. Slots four and five are also disabled leaving slot three as primary. The EVGA X299 Dark doesn't punish you for buying the cost effective 28-Lane CPU over the expensive 44-Lane version so keep that in mind when picking one up.