EVGA X299 Dark Motherboard Review
EVGA X299 Dark Motherboard Review
Author:

Dennis Garcia
Published:
Friday, March 30, 2018

Board Layout and Features Continued
Internal SATA connections number eight and follow the new SATA6 connection. Six of these are direct from the chipset while two others come from an onboard ASMedia SATA controller. Next to the SATA block you will find two blocks of U.2 connectors allowing you to run 2.5" PCI Express SSD drives.
Why ASMedia??
The Intel drivers on the X299 don't support anything but Windows 10 and if you wanted to run an older OS like Windows XP you would have to run your drives on an external controller card or something like the ASMedia sockets on the X299 Dark. Older OS's are the only way to go when it comes to certain benchmarks and I like that some companies recognize this.
Between the PCI Express slots you will find a pair of M.2 connector(s) that support a variety of devices including NVMe SSDs and Intel Optane drives. You'll need to remove the cooling shroud to gain access.
A third M.2 Key E slot is located in the I/O block supporting WiFi modules.
The U.2 and M.2 are all controlled by the available PCI Express bandwidth from the CPU with several pages dedicated to when certain slots are disabled and how many of them can be used with certain processors.
To help keep your M.2 drives cool and protected EVGA is using a full coverage cooling shield that is powered by the large fan over the chipset. Against popular disbelief the fan is only used to cool the M.2 drives and really does nothing for the X299 chipset, at least directly.
At the top of the motherboard you'll find the DEBUG LED which can read the current CPU temperature, voltage and reads off the POST codes during the initial power on phase. In addition to the DEBUG LED there are activity LEDs scattered around the motherboard which indicate when certain components are populated or when there is trouble.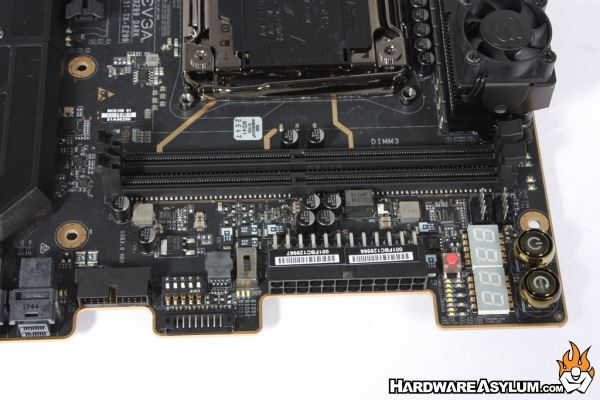 Along with the normal power, reset and CMOS buttons you'll find a selector switch for the active BIOS, PCI Express disable switches, voltage test points (using the probelt connector)
A single replaceable BIOS socket is provided for those times when you really mess up and need a recovery method. Much like 4 wheel drive you should only use this in an emergency or when swapping BIOS images with friends. (Email might be faster but, you never know)
The I/O panel is rather self explanatory and a little different from what you'd normally find from EVGA. Staring at the left you'll find a PS/2 keyboard or mouse connector along with two Ethernet connections. These are above six USB 3.0 connectors (in blue). USB 3.1 (in red) come from the ASMedia controller and gives the board a true Type-C connection. A CMOS reset button and analog audio jacks compliment the 6 channel audio offering with digital connections over optical.
There is a blank for an optional M.2 Key-E module with allowances for two antenna.
EVGA was one of the first companies to offer an I/O cover that helped clean up custom builds by hiding the "ugly" onboard connections. With the X299 Dark EVGA has added a secured I/O shield that is held in place with three screws. This really dresses up the motherboard when running on an open test bench (the Dark's normal home) but can be removed for standard case installations using the included I/O shield.