EVGA X299 Dark Motherboard Review
EVGA X299 Dark Motherboard Review
Author:

Dennis Garcia
Published:
Friday, March 30, 2018

Introduction
EVGA has done a really good job pushing the limit when it comes to computer hardware. Names like Classified and FTW are synonymous with high-end systems and have become the epitome of what it takes to pwn a segment. In 2013 EVGA launched a motherboard called the X79 Dark. This board was designed for the hardware enthusiast and it didn't matter if you were running 4-way SLI, building a gaming system or overclocking with LN2, it worked and, worked extremely well. Much to my surprise the X99 generation missed out on a Dark platform motherboard and it felt like all hope was lost.
In this review I'll be showing you the latest high performance motherboard from EVGA called the X299 Dark. By now we have all seen the pre-release photos and I even posted a "First Look" of the X299 Dark last year before Computex 2017. I was excited about the board then and even more so now.
While I might be focusing on the overclocking aspect of the X299 Dark that isn't all the motherboard is good for. Much like the X79 Dark this version supports a number of enthusiast activities from basic gaming to 4-way SLI and any manner of system build. As with all motherboards based on the X299 chipset it supports Core X Series processors on the LGA 2066 socket. These happen to be the HEDT (High End DeskTop) products normally reserved for hardware enthusiasts who build without limits or industry professionals who prefer workstation style systems and can leverage everything X-Series has to offer.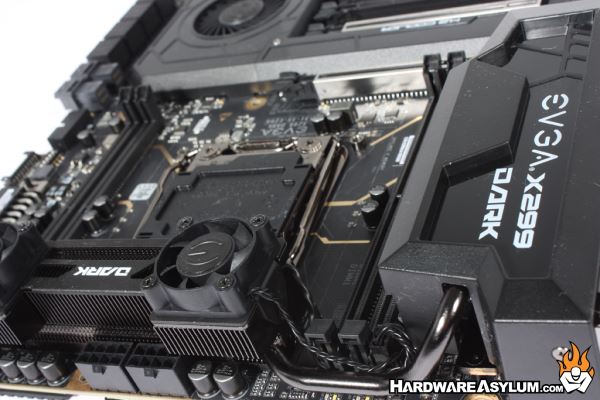 Of course cost and features always play into a buying decision so calling the X299 a gaming motherboard would be a disservice. It was designed from the ground up to be one of the best overclocking motherboards on the market supporting a wide variety of situations from basic overclocks on air to running Core i7 7740X processors at 7Ghz on LN2 and, everything in between. In may respects it shares many aspects with the ROG Rampage IV Apex and might have even been inspired by it. Both are designed for overclocking, both have "funky" shaped PCBs and both only have four memory sockets. However, the similarities are not a 1:1 and where the Apex is designed as a high-end retail motherboard the Dark takes things a little further.
Specifications
Chipset: Intel X299
Socket: Intel Socket 2066
Form Factor: E-ATX
SLI: 4-Way
Memory: 4 DIMM Quad-Channel (up to 64GB) DDR4 4000MHz+ (SKX), 2 DIMM Dual-Channel (up to 32GB) DDR4 4133MHz+ (KBL)
USB: 8 Native USB 3.0 / 4 USB 2.0
USB 3.1 (Rear I/O): 1x Type-A, 1x Type-C
SATA: 6 Native SATA 6.0Gbps Ports / 2 ASMedia SATA 6.0Gbps Ports
Ethernet: 2x Intel® Gigabit NIC
Audio: Creative Sound Core3D Quad-Core Audio Processor
Fan Headers: 7 (2 PWM, 5 DC\PWM)
PCB: 12 Layers
Key Features
100% Solid State Capacitors
13 Temperature and 24 Voltage Sensors
1x M.2 Key E (32mm) + 2x M.2 Key M (80mm,110mm)
300% more gold content in the CPU socket
4-Way SLI® Support
Advanced VRM Fansink with Heatpipe
CLEAR CMOS, Power and Reset
Creative Sound Core3D Audio with Output Amplifiers
Dual 8 Pin CPU Power
EVGA E-LEETX Tuning Support
EVGA Probe-It Connector
External Clock Gen.
Full Body Cover with Active PCH and M.2 Cooling
Highly-Efficient 16 Phase Power Design
Intel VROC Support
Legacy Windows Support, Including Windows XP
Onboard Power, Reset, and Clear CMOS
Onboard Temperature and Voltage Monitoring
Right-angle power, FAN, USB 3.0 headers
Triple BIOS Support
Windows 10 64bit Support