EVGA X299 Micro Motherboard Review
EVGA X299 Micro Motherboard Review
Author:

Dennis Garcia
Published:
Thursday, September 21, 2017

Conclusion
In this review I looked at the EVGA X299 Micro. This is a MicroATX motherboard is built on the new X299 chipset from Intel and supports the new X-Series processors. On the surface the X299 is very similar to X99 in terms of features and available options. That is until you look at the X-Series processor. Each processor SKU comes with its own set of limitations which range from fewer PCIE Express lanes, different core counts and even different memory requirements. Of course these all link back to the core architecture and unlike with the X99 we are given a wider variety of processor options from Core i5 to the new high-end Core i9 with upwards of 10+ physical cores with Hyperthreading.
The EVGA X299 Micro is a very unique motherboard in that it follows many of the EVGA principals of supporting multi GPU configurations and overclocking while also catering to the gaming crowd with a compact form factor. Onboard you'll find the expected M.2 and U.2 sockets along with a removable Wireless module that is also on a M.2 and creatively located in the I/O panel.
EVGA has been using their UEFI design for a few years now and is still one of the best ones on the market. It displays exactly what you need to see on a single dashboard while still giving you access to all of the submenus required to configure the board. This is an important feature given that many manufacturers tend to overcomplicate the interface in an attempt to show "everything" or do the opposite and hide everything in a list of complex menus. The EVGA UEFI is very straight forward showing you the current state of your system while giving you appropriate menus to make adjustments.
Overall the motherboard performed as you would expect with solid performance and a few surprises along the way. The first is how powerful the new Core i9 7900X over the 5960X. Sure you can call out the 10 physical cores plus Hyperthreading as a major synthetic boost which translated into better content creation scores and brought gaming performance up to rival the LGA 1151 Kaby Lake. Sadly, audio performance was down and there was no BCLK adjustment in the UEFI so I guess you can't have them all.
I mentioned early on in this review how I am a big fan of the MicroATX form factor due to the compact size and ability to support multi GPU configurations. It seems like the perfect combo for a budget X299 build where portability and performance are key factors in the design.
Good Things
Compact Form Factor
Supports SLI
Black Color Scheme
Great Heatsink and I/O Cover Design
Excellent UEFI Menus
Great Memory Performance
Wireless Module Included
RGB Header
Bad Things
PCI Express lane distribution based on processor
Could not find BCLK adjustment in UEFI
Limited overclocking
Hardware Asylum Rating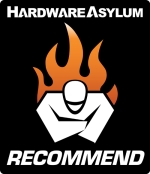 EVGA X299 Micro Motherboard Review
Recommend
https://www.hardwareasylum.com