EVGA X299 Micro Motherboard Review
EVGA X299 Micro Motherboard Review
Author:

Dennis Garcia
Published:
Thursday, September 21, 2017

Onboard Connections and Audio
The I/O panel is rather self explanatory. On the panel you will find a total of eight USB ports. six USB 3.0 in blue and two USB 3.1 in red using both Type A and Type C ports. You will get a single Gigabit network connection using the Intel i219v PHY. CMOS reset and 8-channel audio complete the load out. As was mentioned before the M.2 slot is for the wireless card and is really a unique option to include on the X299 Micro.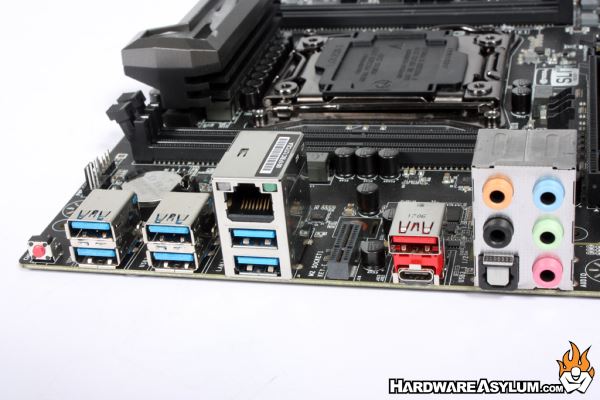 Onboard Audio
The audio solution found on the X299 Micro is using the Realtek ALC1150 audio controller supporting up to 8 channels (7.1) with a digital connection over optical. Like some of the high-end gaming motherboards you'll find some specialized audio capacitors near the controller.
To further illustrate that the layers are completely separate on the reverse side of the motherboard you'll find a series of LEDs that light up and shine thru the PCB layers when the system is powered on.
Included Goodies
We have come to expect more goodies from our high-end motherboards to help justify the additional cost. EVGA doesn't include much with the X299 Micro but what you do get is pretty amazing. For starters the manual is 136 pages deep, all in English and covers every aspect of the motherboard from what is onboard to how the PCI Express lanes divide depending on what processor is installed.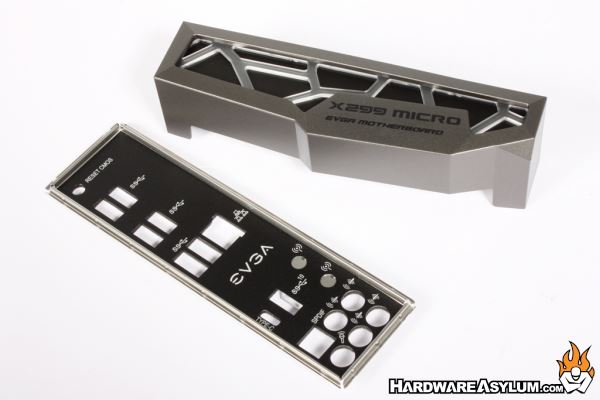 An EVGA branded I/O shield is also included along with a very ornate I/O cover which is an optional decorative item used to cover the I/O connections and clean up your system builds. This shield closely matches the VRM heatsink to better reinforce the overall design theme.