Gigabyte X99 Designare EX Motherboard Review
Gigabyte X99 Designare EX Motherboard Review
Author:

Dennis Garcia
Published:
Friday, June 24, 2016

Conclusion
In this review we looked at the Gigabyte X99 Designare-EX. This motherboard is part of an X99 refresh to support the launch of the Intel Broadwell-E processor and has taken a special approach to how a motherboard should be designed.
Motherboard layout is rather unique in that for once the LGA 2011 v3 platform is not all about running multiple video cards. In fact this board only supports 3-Way SLI but does so with 16x lanes of PCI Express at each slot. To accomplish this Gigabyte has added a PLX PCI Express switch with the express intent of using the extra lanes to support triple NVMe SSD drives over a combination of M.2 and U.2 storage interfaces.
Cooling is handled by two very large heatsinks that are connected with a black nickel plated heatpipe. Normally both the VRM and X99 chipset run relatively cool leading us to believe that the oversized heatsink is adequate. However with the addition of a PLX chip the entire cooling system can run extremely hot. I would have preferred to see an additional heatsink used in the design given that temperatures can exceed 50C after a lengthy gaming session.
When it comes to the motherboard as a whole it is easy to get consumed by the different technologies embedded into the X99 Designare-EX. Things like dual Intel Gigabit LAN connections, onboard WiFi, triple NVMe SSD support, USB 3.1, Thunderbolt and even a strangely placed DisplayPort connection are all great for an enthusiast but what about casemodders and system builders?
Despite how difficult it is to photograph a black motherboard with white shielding the overall design is quite good and even comes with RGB lighting effects.
The Ambient LED application allows you to control the lighting both in color and intensity. Solid, Beat, and Pulse are selectable lighting patterns and the transition time is configurable within the app. I found the lights to be very picky when it comes to color and choosing anything but a solid color tended to get washed out. However, once you find a color you like you can transfer it to an external LED lighting strip to further color match your entire build.
Overall I really liked the X99 Designare-EX. It preformed as expected and delivered extremely good overclocking performance and stability. I am especially impressed with how Gigabyte integrated the PLX controller to expand PCI Express SSD support This chip adds some extra heat but is nothing a well vented chassis cannot resolve. In terms of features I am a little surprised not to see a Killer Networks controller given how popular they are with gamers and the LED lighting could have used a few more color transitions.
Good Things
Triple NVMe SSD Support
3-Way SLI Support at 16x
Triple Network Connections
Great Styling
Metal Reinforced Expansion Slots
I/O and Audio Covers
Onboard PLX Switch
LED Lighting Effects
Bad Things
No onboard power & reset buttons
Mobo heatsinks get HOT
Washed out LED colors
Some LED lights you will never see
Hardware Asylum Rating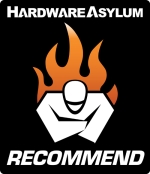 Gigabyte X99 Designare EX Motherboard Review
Recommend
https://www.hardwareasylum.com