Gigabyte Z170X SOC Force Overclocking Motherboard Review
Gigabyte Z170X SOC Force Overclocking Motherboard Review
Author:

Dennis Garcia
Published:
Friday, March 04, 2016

Introduction
I find motherboards to be extremely fascinating. Not only are they the heart of any computer system but they are the one component that also dictates what you can and cannot do with a particular system. For instance video card support is controlled by how many expansion slots your motherboard has. Memory support is physically controlled by the memory slot and drive connections by the available plugs. While every motherboard gives you a certain amount of expandability only a select few allow you control over those expansions and that is where things get interesting.
In this review I will be looking at the Gigabyte Z170X SOC Force motherboard. This is one of the latest Skylake enabled motherboard from Gigabyte designed for overclockers, gamers and hardware enthusiasts alike. The Z170X SOC Force is different from previous versions of the SOC in that it features an onboard PLX chip for proper 4-Way SLI and overbuilt everything for proper enthusiast level quality.
I was a bit surprised to see the Z170X SOC Force move back to its enthusiast level roots and mimic what Gigabyte did with the Z87X OC Force back in the Haswell days where they integrated everything into a single motherboard. It of course raised overall cost but gave enthusiasts and system builders everything they needed on a single platform. The Z170X SOC Force is taking that and pushing style and design one step further.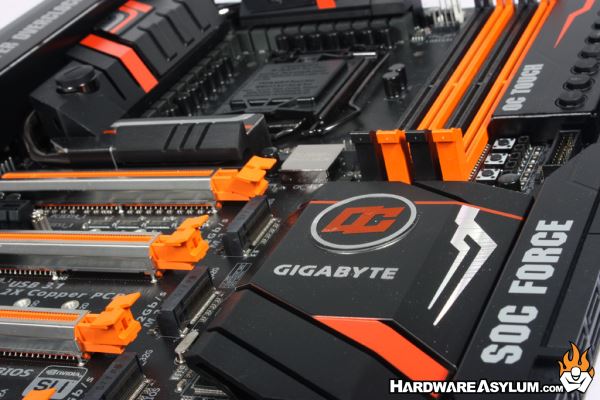 Normally "Lean and Mean" is the motto when hunting elusive overclocking records and Gigabyte has done quite well with that in the past. However, when you look at Gigabyte competitors you will notice that they can achieve the same level of performance with more features so why not explore that. For Gigabyte this isn't so much straying from the intended path but rather brings their products in line with current market trends.
Personally I still am a huge fan of the trimmed down overclocking motherboards. They are super fast and designed for the type of overclocking I enjoy doing. Thing is for the casual enthusiast that level of dedication isn't always affordable and may favor a full featured board over a specialized one.
Features
Supports 6th Generation Intel® Core™ Processor
Dual Channel DDR4, 4 DIMMs
22 phases digital power delivery design
Exclusive OC Touch with Metal shielding design
Exclusive Ultra Durable Metal Shielding over the PCIe Slot
Built-in advanced performance tuning IC
Intel® USB 3.1 with USB Type-C™ - The World's Next Universal Connector
Extreme 4-Way Graphics Support with OC Brace
3 SATA Express Connectors for up to 16Gb/s Data Transfer
3 PCIe Gen3 x4 M.2 Connectors with up to 32Gb/s Data Transfer
115dB HD audio with build-in rear audio amplifier
Intel® GbE LAN with cFosSpeed Internet Accelerator Software
LED Trace Path with Multi-Color Choice
Water Cooling Ready Heat sink Design with G1/4 Threaded Fittings
GIGABYTE UEFI DualBIOS™ with Q-Flash Plus USB port
Of course for a full list of specification be sure to check out the Gigabyte website or open the Users Manual.