Gigabyte Z170X SOC Force Overclocking Motherboard Review
Gigabyte Z170X SOC Force Overclocking Motherboard Review
Author:

Dennis Garcia
Published:
Friday, March 04, 2016

UEFI Features
UEFI (BIOS) designs are a delicate mix between allowing the user to make system changes quickly and displaying information the user needs. The Gigabyte UEFI is all business and styled after the classic interface. In fact, aside from the colors the layout and interface is identical.
Below are some of the more interesting screens found in the GA-Z170X-SOC Force BIOS.(in no particular order)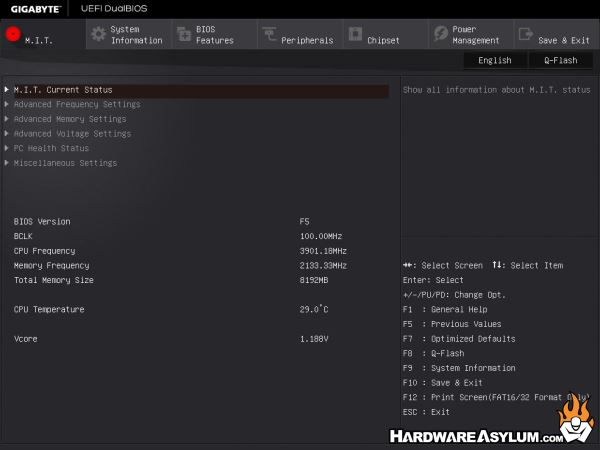 As with all BIOS menus it is a good idea to root around and identify all of the settings you are looking for and discover what their dependencies might be.
One thing that isn't evident in the provided screenshots is how LONG some of the menus are. For instance Gigabyte has provided a total of FIVE pages dedicated to Memory Timings, and that is just for one channel. You can choose to have settings duplicated to the second channel or manually set the second channel yourself.
There are also FOUR pages dedicated to the Internal Voltage Regulation Control and TWO pages for the PC Health Status. Needless to say the Gigabyte Z170X SOC Force doesn't mess around when it comes to giving you control over your computer.
The best part is 90% of these extra settings are designed to help the experts tune their hardware for the most efficient performance and there is virtually no reason why the average user needs to touch a single one. In fact many of the auto overclocking menus handle the major sub timings for you allowing for excellent out of box performance.