Aorus Z690 Elite AX DDR4 Edition Motherboard Review
Aorus Z690 Elite AX DDR4 Edition Motherboard Review
Author:

Dennis Garcia
Published:
Tuesday, June 21, 2022

Conclusion
When Alder Lake launched, I was exposed to a number of recommendations from memory makers that when comparing performance between DDR5 and DDR4 that it was important to make sure that the size and rank configuration be the same. This is a good practice to follow if you want to ensure a proper comparison. Though what caught me off guard is that there were socket LGA 1700 motherboards that supported DDR4 memory.
In this review we looked at the Z690 Aorus Elite AX DDR4 Motherboard from Aorus Gaming (from Gigabyte). This board is built on the Intel Z690 chipset supporting the new LGA 1700 Alder Lake line of processors. As many of you may already know., the new processor features a hybrid core design with Efficiency and Performance cores. This separation plays a major role in power efficiency while also allowing the processor to quickly ramp up and respond to different loading conditions with ease.
The processor also supports exciting new features including PCI Express 5.0, DDR5 and marks a new milestone for the computer hardware enthusiast.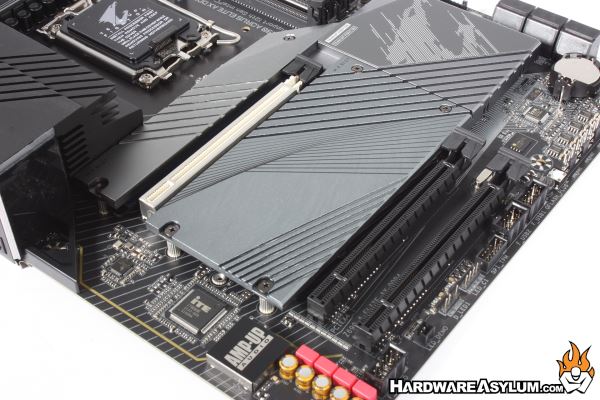 This Aorus Z690 Elite AX is a little different in that it features support for DDR4 memory allowing hardware enthusiasts and system builders the option to use existing DDR4 memory while still taking advantage of the hardware features of the Z690 chipset and LGA 1700 processors. From a performance standpoint the DDR4 and DDR5 motherboard versions are virtually identical and what differences you can find have little effect on overall system performance.
Simply put, if your Elite AX DDR4 build includes a high quality NVMe SSD and 3600Mhz+ DDR4 memory you will have the makings of a solid build that will last for quite a long time.
Now, as a PC Hardware Enthusiast I would like to mention a few things. The Z690 Aorus Elite AX DDR4 is a pretty good motherboard and supports everything a modern gamer will need along with a few features I would consider "excessive for the sake of being excessive".
For instance, on a motherboard at this level there is no need to have four M.2 slots and no reason to have a 19 Phase VRM. Overclocking performance on LGA 1700 leaves much to be desired but, is a nice feature to mess around with. I do find the onboard audio solution to be a bit of an afterthought while also being an accurate reflection of modern PC audio. Many gamers have migrated to USB sound solutions and have ditched desktop surround sound speaker systems. What I find amusing is how we still have optical audio ports and yet you will be hard pressed to find desktop speakers that support optical inputs.
During this review I did have issues getting Windows installed. This was due to the network controller not being recognized. For me the solution was to download the drivers from the Gigabyte website and us a USB drive to install them. However, what I discovered is that the provided Ethernet driver didn't work and would crash the system whenever it was installed. I was able to use the WiFi driver but, for how I test systems in the Hardware Asylum Labs having only WiFi was less than ideal.
Overall, the Z690 Aorus Elite AX DDR4 does exactly what it should, and not much of anything else making it a perfect motherboard for users with existing stockpiles of DDR4 memory and no desire or need to overclock or do any performance tuning. I did find it interesting that this board is designed to support older DDR4 memory modules and yet lacks support for older LGA 1200 heatsinks. A major missed opportunity in my book.
Good Things
Next Generation Design
Solid Performance
Supports 4x M.2 Drives
PCI Express 5.0
Excellent Industrial Design
Great Gaming Platform
You'll Need a New Heatsink
Bad Things
Very little onboard RGB lighting
No benchtop controls
No driver disk
No real onboard audio
You'll need a new CPU heatsink