Aorus Z690 Elite AX DDR4 Edition Motherboard Review
Aorus Z690 Elite AX DDR4 Edition Motherboard Review
Author:

Dennis Garcia
Published:
Tuesday, June 21, 2022

UEFI Features
UEFI (BIOS) designs are a delicate mix between allowing the user to make system changes quickly and displaying information the user needs. The Aorus UEFI has been redesigned to add flyout menus for system status and change the overall look. By default, the UEFI opens in "easy mode" which displays all of the major system specs on one dashboard. From there you can make a few minor changes or enter the advanced mod by pressing F7
Sadly, the new design doesn't have page titles or a breadcrumb trail so finding where you are in a particular menu can be a little tricky and once you are inside a menu you can never tell how far down the rabbit hole you have gone.
It should be noted that anything with a Star next to it is automatically moved to a Favorites' menu so you can quickly make changes to what you happen to be testing.
Below are some of the more interesting screens found in the Z690 Aorus Elite AX DDR4 BIOS.(in no particular order)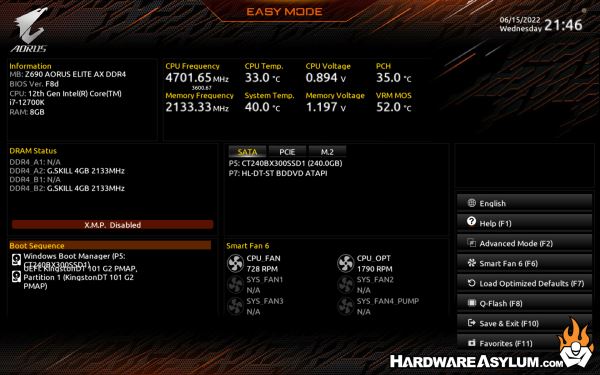 As with all BIOS menus it is a good idea to root around and identify all of the settings you are looking for and discover what their dependencies might be.