Gigabyte Z77X-UD3H Motherboard Review
Gigabyte Z77X-UD3H Motherboard Review
Author:

Dennis Garcia
Published:
Tuesday, July 03, 2012

Conclusion
A large market for any motherboard maker is the midrange and industrial sectors. These sectors concern themselves less with overclocking features and more about getting the best bang for their buck. This market is extremely fierce too with big money deals going to whoever can deliver with the best deal. Features like the onboard mSATA and a full array of USB 3.0 ports are great selling points in this space but matter little to overclockers and enthusiasts.
Typically Gigabyte has been very clear in their distinction between the product lines leaving the UD products to dominate the retail space. However, there are strong indications that the GA-Z77X-UD3H is nothing more than a higher cost industrial motherboard with some retail features added to combine the two product lines.
This motherboard features some benchtop friendly features like voltage test points and onboard buttons for power and reset but for all that effort the PWM is rather small. We have no doubt that given the current configuration any "K" series processor can run 5Ghz+ on this board
(as we have witnessed)
but we would have liked to see a few extra power phases and better heatsink design to complement the effort.
Motherboard layout is quite good and follows a design that we have seen before in the
Z68X-UD3H-B3 review
. The design will support up to three graphics cards but is clearly optimized for dual card operation and supports the new PCI Express 3.0 standard which is native to the Ivy Bridge processor. In an attempt to make the board stand out Gigabyte has included a VIA VL800 controller chip that replaces the need to have USB 2.0 ports on the I/O panel and included an mSATA port which is perfect for HDD caching using Smart Response. Sadly the VIA VL800 chip is not recognized by Windows and requires a driver to function.
Overclocking the GA- Z77X-US3H was pretty straight forward due in part to the familiar Gigabyte UEFI. The only real complaint is how the USB 3.0 ports would die with moderate amounts of BCLK and how we needed excess voltage to compensate for vDroop issues.
Good Things
Dual Card SLI Support
Extra space between video card slots
Onboard TPM for Security
SATA 6
Onboard Video
Bad Things
VIA controller doesn't like BCLK
Onboard audio didn't test well
Ninjalane Rating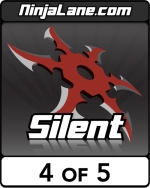 Gigabyte Z77X-UD3H Motherboard Review
Silent 4 of 5
https://www.hardwareasylum.com