Gigabyte Z97X SOC Force Overclocking Motherboard Review
Gigabyte Z97X SOC Force Overclocking Motherboard Review
Author:

Dennis Garcia
Published:
Tuesday, July 29, 2014

Introduction
One of the largest parts to building a brand is not only name but, reputation and legacy as they help to define public perception. Back in the old days DFI did this with their LanParty series and while the brand is no longer sold in retail markets the motherboards are still in demand. A similar situation is happening with Gigabyte following the launch of their OC line of motherboards designed for overclockers. Overclocking itself is a rather niche market however the products inspired by overclocking continue to sell well and influence consumers to look at other products from the same manufacturer.
In this review we will be looking at the Gigabyte Z97X SOC Force motherboard. As the name suggests this is an overclocking enabled motherboard that was created as a successor to the Z87X OC and Z87X OC Force motherboards from the previous generation. At Computex this year we were introduced to the new OC and Gaming motherboards and were told that the products shifted a little this year. For instance the OC boards lost the ability to run 4-Way SLI and no longer feature an overbuilt VRM. Instead these options were moved up the chain to the G1 Gaming series which also consumed many of the Ultra Durable skus.
This may seem a little counterproductive until you realize that most overclockers using LGA 1150 have concentrated on memory overclocking and rarely use more than two video cards. Knowing this empowered Gigabyte to streamline the OC series and focus more on delivering CPU and Memory overclocking options while leaving the GPU power for gamers.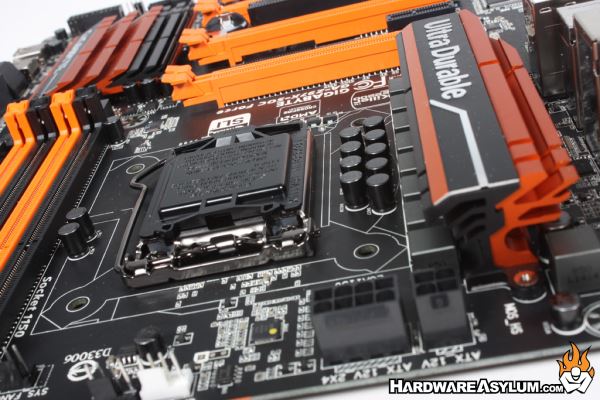 As you can imagine cost for niche market products, like overclocking motherboards, can be a deciding factor and you'll be happy to know that by minimizing the onboard components the overall overall cost comes down. The Z97X SOC and Z97X SOC Force are priced around $200 USD and come with similar features. 2-way SLI is the only discernible feature on the Force edition and will come with a price premium of around $30 USD.
The Z97X-SOC Force is a very unique motherboard and breaks the traditional mold of "more is better" in enthusiast hardware. This is somewhat of a misnomer since the real value is the little things that you may not always notice. In terms of overall features, construction and design of the SOC Force is considerably simpler than say the Z97X-Gaming G1 or even some of the products in the mainstream Ultra Durable line. So far public reaction to this approach has been extremely good, lets hope it stays that way.