Gigabyte Z97X SOC Force Overclocking Motherboard Review
Gigabyte Z97X SOC Force Overclocking Motherboard Review
Author:

Dennis Garcia
Published:
Tuesday, July 29, 2014

Conclusion
We mention this quite often but as overclockers we often demand more from our hardware and want something that is specially built to help us reach insane levels. Sometimes those levels include getting a SuperPi record while others might be simpler like running two monster video cards so we can relax in front of a 30" monitor and play our favorite game. Regardless of your plans it is really important to have a good base to build your system on.

The Gigabyte Z97X SOC Force is a generational upgrade over the Z87X OC and was designed to be a better board than the previous edition. Motherboard layout is rather straight forward and doesn't deviate much from what we have seen on other OC boards like the X79, Z77 and X58. Slot layout will support up for four graphics cards but only supports 2-way SLI given the lack of an onboard PLX chip. Hardware based overclocking controls are located in the upper right corner of the motherboard in a feature bundle called OC Touch. A driver is required to access many of the features from inside windows so be sure to keep your driver disk handy.

The Z97X SOC Force comes with a redesigned UEFI interface that overlays the classic/advanced menu system. On top of the new Dashboard sits another interface that we will call the "Startup Guide". The new menu helps to simplify the UEFI system and allow users to access the most common features. Under that is the new Dashboard design that was introduced with the Z87X and is quite nice showing you realtime stats on your system and even allows you to create custom versions.
Sadly the new UEFI is extremely slow to load taking up to 10 seconds from the time you press the DEL key to the time you are allows to start making changes. Combine that with the simplified "Startup Guide" not allowing you to OC and you have a frustrating recipe of time sucks.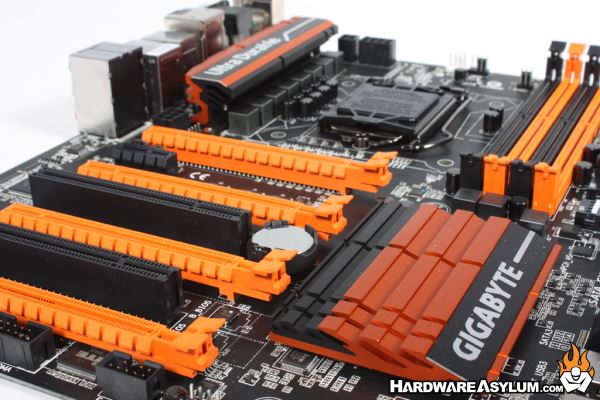 Like always overclocking the Z97X SOC Force is extremely easy and supports a wide variety of scenarios from straight BCLK adjustments to BCLK Strap and CPU Multiplier. Those looking to overclock memory will like all of the available memory options along with a few pre-defined defaults for some of the more popular kits. The motherboard also features surface mounted memory sockets that not only improve signal integrity but remove accidental shorting when using LN2. The Z79X SOC Force does comes with a smaller eight phase PWM but is backed by PowIRstages which can supply more power to the CPU, with less heat and better efficiency.

In this review we experimented with a variety of different overclocking methods including air, water and phase. While the Single Stage Phase cooler gave us the best results your actual performance gains will be determined by the quality of your CPU. Some chips run cooler than others while others higher BLCK Straps and scale better under cold. The nice thing about the Gigabyte Z97X SOC is that Regardless of your CPU quality there are options available to get the most from your CPU, video card and memory.
Good Things
4-Way GPU Support
Voltage test points
Matte Black Finish
Efficient Heatsink Design
SATA Express
Internal USB Plugs
OC Touch Controls
Power IR Digital PWM
Gold Plated CPU Socket
Bad Things
New UEFI is painfully slow
Default UEFI menu is the "Startup Guide" and doesn't support overclocking?
Audio quality was bad this time around
Hardware Asylum Rating