Gigabyte Z97X SOC Force Overclocking Motherboard Review
Gigabyte Z97X SOC Force Overclocking Motherboard Review
Author:

Dennis Garcia
Published:
Tuesday, July 29, 2014

Multi GPU Index
The Hardware Asylum Multi-GPU index is a portable set of data we can use to determine the multi-GPU potential of any motherboard. A higher index number indicates a favorable condition for multiple graphics cards while a lower number indicates a hindrance in one of our leading indicators. Since the Index is not dependent on system architecture it can be applied to any motherboard regardless of processor or chipset generations.
Multi-GPU Scorecard
Index: 3
Optimized: 2x
Max Support: 4x
Technologies Supported
NVidia SLI (2-way)
AMD Crossfire (4-Way)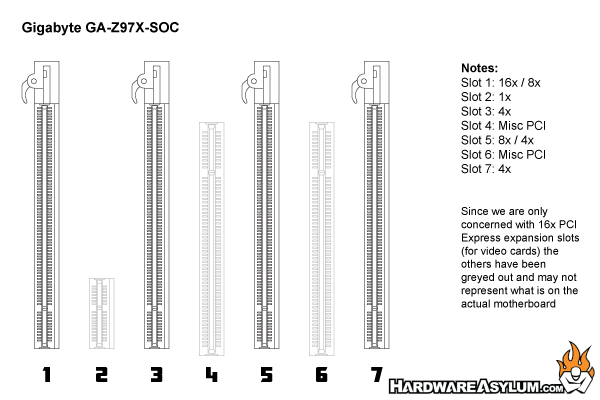 As indicated by the PCI Express layout chart there are a total of four 16x PCI Express slots on this motherboard with all four using bandwidth earmarked for video cards. The configuration is rather unique because you are given a choice of bandwidth allocations depending on your system configuration.

The three topmost 16x slots all use bandwidth directly from the CPU. The fourth and final slot borrows 4x lanes from the South Bridge. Despite supporting more graphics cards the Multi GPU Index number is actually lower on the OC board than on a mainstream Ultra Durable.
Slot one will be your primary video card slot and will run at a full 16x direct from the CPU when only a single card is installed. Installing cards in slot five will split the bandwidth with 8x lanes going to slot 5. Populating slot 3 divides this bandwidth even further with 4x lanes going to slots 3 and 5 while slot 1 retains its 8x advantage.

For best video performance you will want to populate slots one and five with video cards. For proper quad card configurations using AMD Crossfire you'll populate slots one, three, five and seven but expect a 8x, 4x, 4x, 4x lane configuration with the last card using bandwidth from the MCP.