ASUS ROG Maximus X Formula Motherboard Review
ASUS ROG Maximus X Formula Motherboard Review
Author:

Dennis Garcia
Published:
Tuesday, August 28, 2018

ROG Aura LED Lighting and LiveDash
ASUS Aura RGB LED Lighting Control
RGB LED lighting has been all the rage in recent months and in a strange twist of fate it is actually difficult to find a product WITHOUT RGB LEDs. Some hardware enthusiasts have taken offence to RGB in general while others find it a welcome addition.
The ASUS Maximux X Formula features a set of onboard RGB LEDs controlled by the ASUS AURA lighting system. The lights are done VERY tastefully with only accent lights near the VRM, PCI Express locks and onboard buttons. AURA is more than a motherboard lighting solution as it will span across a wide variety of RGB enabled products from keyboards, mice and RGB LED lighting strips.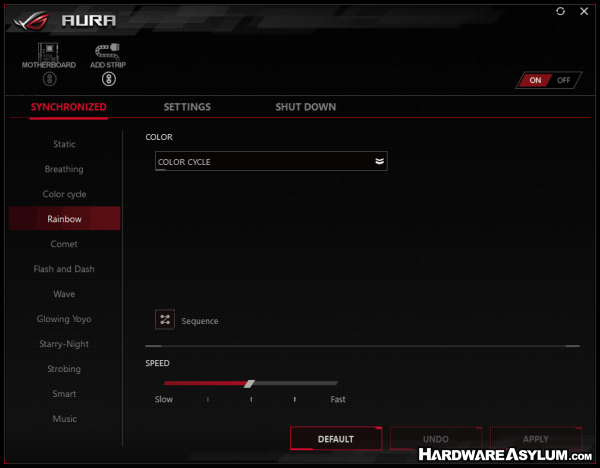 Above is a screenshot from the AURA software showing the different lighting modes. When you add additional devices supporting AURA they will appear in this dialog with the option to sync or customize the different lighting configurations.
ASUS LiveDash
Sometimes there is a motherboard feature that catches me off guard. The ASUS LiveDash is one of those features and at first I didn't even notice it. LiveDash is a small software controlled screen which can be programmed to display just about anything from CPU voltage and temperatures to animated GIFs.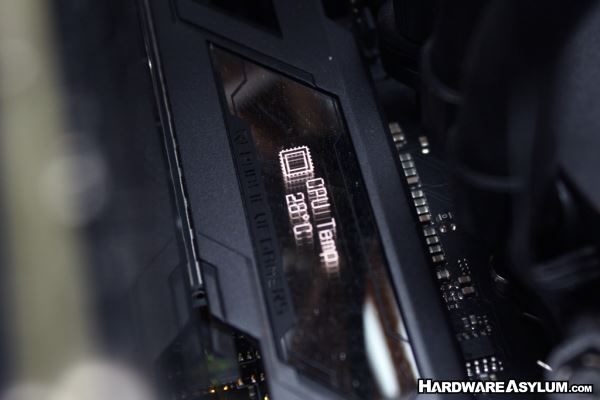 The LiveDash software is pretty straight forward and allows you to select what is being shown on the screen. Personally I like showing the CPU temp however since the onboard DEBUG LED shows that after POST you can select voltage or frequency and proudly show off your overclocks at the next LAN.
If stats aren't your thing any animated GIF can be uploaded or you can select one from a pre-defined list. Keep in mind that only ONE thing can be shown at a time so, sadly, you are stuck showing pictures or system stats with no option to cycle through.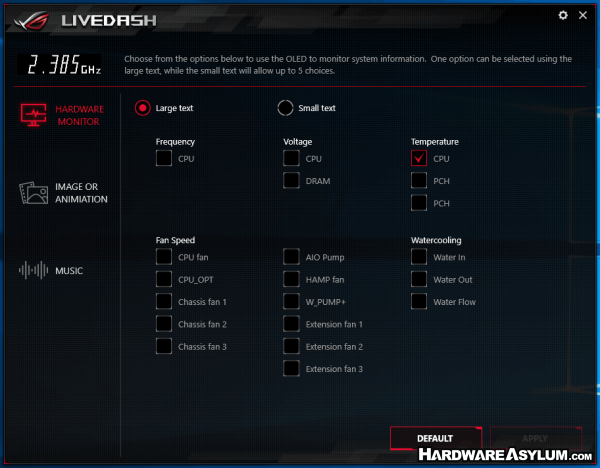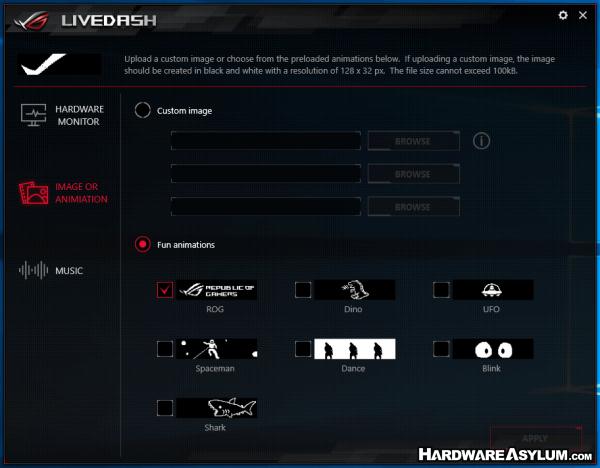 ASUS has always experimented with these little displays and sadly they never seem to stick around. Honestly I'm a fan of LiveDash and hope they open up the API to support more system stats or the ability to send messages to the screen that may support certain build features like watercooling loops and RGB LED effects.