ASUS ROG Maximus X Formula Motherboard Review
ASUS ROG Maximus X Formula Motherboard Review
Author:

Dennis Garcia
Published:
Tuesday, August 28, 2018

Onboard and Included Features
The I/O panel is rather self explanatory thanks in part to the completely integrated I/O shield which is part of the shroud. At the top there are two BIOS buttons for clearing and switching the CMOS. Next to that you'll find two Wi-Fi antenna connections, Display Port and HDMI handle the two onboard video connections. Two rows of USB 2.0 and USB 3.0 ports are next. The USB port marked "BIOS" is for the automatic BIOS Flashback feature. Ethernet and USB 3.x ports are next which includes the popular Type-C connection.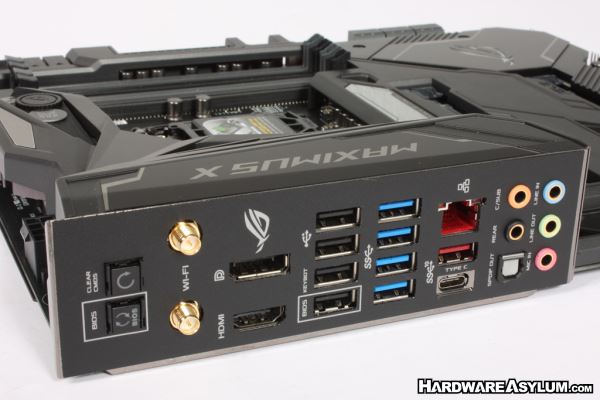 The onboard audio solution found on the Formula is an ROG SupremeFX controller supporting up to 8 channels with a digital connection over optical. Like most of the high-end motherboards you'll find some specialized audio capacitors near the controller.
Included Goodies
We have come to expect more goodies from our high-end motherboards to help justify the additional cost. ASUS includes some really good stuff with their motherboards and with the Formula you'll get what you see below.
In terms of documentation you will get very healthy users guide which will help you locate all of the key components on the motherboard and even help troubleshoot POST codes in the event you have problems booting.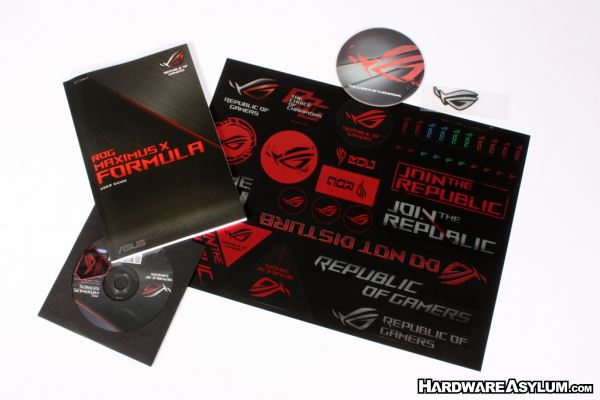 An ROG branded I/O shield is also included along with a single HB SLI bridge for 2-way configurations. As we all know starting with the NVidia Pascal GPU SLI is done over an High Bandwidth SLI bridge that uses both sets of SLI fingers on the video card. Of course you can still do 4-Way Crossfire and will need your own bridges for that.
You will also get a nice sticker sheet with some fancy ROG logos along with a drink or LN2 flask coaster to protect your desk.