ASUS ROG Maximus X Formula Motherboard Review
ASUS ROG Maximus X Formula Motherboard Review
Author:

Dennis Garcia
Published:
Tuesday, August 28, 2018

Conclusion
Overall the motherboard performed extremely well with solid performance out of the box and consistent scores while overclocked. This is not uncommon for a product that is designed to be used in extreme conditions but, the execution is often a deciding factor. The Maximus X Formula is an interesting motherboard in that it comes with all of the high-end overclocking features to support LN2 overclocking and a VRM borrowed from the Maximus IX Apex but with a subdued layout designed for gaming and high-end system builds. You can see this in PCI Express layout designed for dual card SLI/Crossfire. There is a third slot but is using bandwidth from the chipset which works but, isn't ideal.
The full coverage shroud is also a popular option with system builders giving them a canvas to use when adding color and graphics to their builds. The plastic accepts paint quite well and the full metal backplate really completes the entire design even if it is hidden behind most motherboard trays. Of course if the shroud is left stock it hides all of the "ugly" electrical components keeping things nice, neat and clean. Live Dash and the watercooled VRM help to round out the visual features that really reinforce how the Maximus X Formula should be used by accentuating what is important to builders.
The UEFI layout is quite good and displays exactly what you need to see. This is an important feature given that many manufacturers tend to overcomplicate the interface by trying to show "everything" or do the opposite and hide everything in a list of complex menus. The ASUS UEFI is very straight forward showing you the current state of your system while giving you appropriate menus to make adjustments. I will admit the menus can get excessively long and some settings are easy to miss as a result.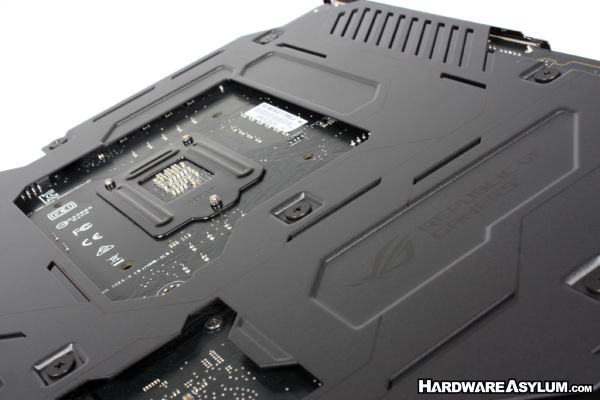 When it comes to overclocking I found the Formula to be very responsive to manual and automatic adjustments. Per the usual automatic overclocking is very voltage heavy and will default to 1.4v+ when overclocking with the BCLK aware voltage feature is enabled. Personally I find this to be a little excessive but, might be what is needed for whatever CPU sampling ASUS used to configure the optimized defaults.
It is difficult to go wrong with any ASUS ROG motherboard as they always feature better components, better performance potentials and ease of use. The Maximus X Formula is a full featured motherboard with onboard Wi-Fi, Tasteful RGB LEDs a watercooled VRM and options to really turn the screws with the help of LN2, if you are into that sort of thing.
Good Things
Black Color Scheme
Watercooled VRM Heatsink
Excellent UEFI Menus
Flexible PCI Express Layout
4133Mhz DDR4 Performance
Clean Audio
Live Dash LED Display
LED Strip Header
Excellent Overclocking
Excellent Voltage Control
Full Coverage Shroud
Full Metal Backplate
Bad Things
Live Dash is very limited
Shroud makes removing video cards difficult
Only one M.2 is cooled by the chipset heatsink
Hardware Asylum Rating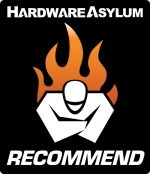 ASUS ROG Maximus X Formula Motherboard Review
Recommend
https://www.hardwareasylum.com