ASUS ROG Maximus X Formula Motherboard Review
ASUS ROG Maximus X Formula Motherboard Review
Author:

Dennis Garcia
Published:
Tuesday, August 28, 2018

Board Layout and Features Continued
The upper right section of almost any motherboard is typically dedicated to onboard controls like a DEBUG LED, power and reset buttons. These have been integrated into the shroud design and even light up when the power is activated.
Standard overclocking controls are located at the bottom of the motherboard under the last PCI Express slot. These include ROG features like MemOK, slow mode switches, LN2 mode switch and several others designed for specific tasks that most gamers will never need to use.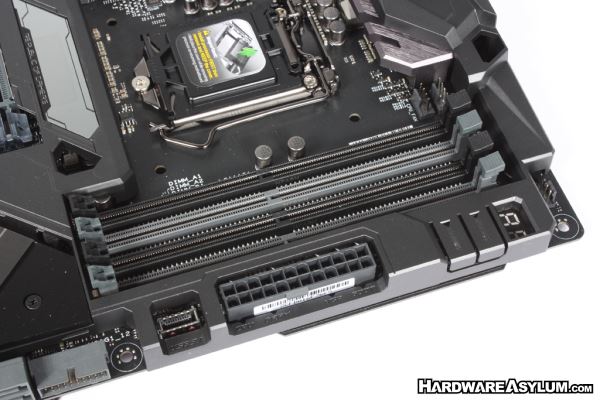 Dual channel memory comes standard on the Coffee Lake processor and the ASUS Maximus X Forumla supports standard speed DDR4 modules at 2133Mhz with overclocking support up to 4133Mhz. A maximum of 64GB is addressable with the four onboard memory slots. Keep in mind 4133 is technically "overclocked" and may not work correctly unless you only have two memory slots populated.
The formula comes with a two M.2 slots. One is located under the chipset cooler and comes with a thermal pad to help keep NVMe drives cool. The second connection is a vertical one located at the bottom of the motherboard below the chipset cooler.
Internal SATA connections number six and follow the SATA6 connection standard. Two of the standard SATA6 ports are tied to a M.2 slot so when a M.2 drive operating in SATA mode is connected. Two of these ports will be disabled.
To the right of the SATA connections you'll find USB 3.0 and USB 3.1 connections. To the left are a variety of connections from standard fan ports, thermal sensors and various front panel connections.
It has been said that the modern VRM cooler is 90% looks and 10% functional so, the question remains, how do we pump those numbers up?
Well, watercooling enthusiasts would tell you that a full coverage waterblock designed to cool the CPU and VRM are the way to go and on some ROG motherboards that is a realistic option. Unfortunately, full coverage blocks are expensive and only appeal to a small niche of builders. A more affordable option is a simple hybrid solution.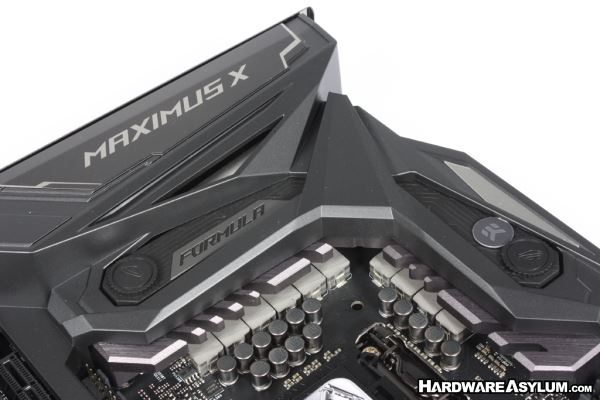 On the Maximus X Formula the VRM is cooled by a hybrid cooler featuring an EK Waterblocks lower and ASUS ROG decorative upper. Combined they offer a solid cooling mass that can be easily integrated into an existing water loop or left alone to chill in the modern AIO/Air Cooled world.