MSI X299 Gaming Pro Carbon Motherboard Review
MSI X299 Gaming Pro Carbon Motherboard Review
Author:

Dennis Garcia
Published:
Wednesday, November 08, 2017

Board Layout and Features Continued
Internal SATA connections number eight and follow the new SATA6 connection standard direct from the chipset. Next to the SATA block you will find a single USB 3.0 internal header and a single block of U.2 connectors allowing you to run 2.5" PCI Express SSD drives.
Between the PCI Express slots you will find a pair of M.2 connector and will support a variety of devices including NVMe SSDs and wireless modules. Some devices may not work with the UEFI BIOS so be sure to consult the manual for more information.
The U.2 and M.2 are all controlled by the available PCI Express bandwidth from the CPU and there is a rather large chart in the manual describing which slots are enabled based on our installed CPU and which connections are already populated.
To help keep your M.2 drives cool and protected MSI has included M.2 Shield panels that cover your drives and help pull heat away from them similar to a heatspreader on your memory modules. Of course if you don't need or don't want to use the M.2 Shield they are easily removable when opened all the way.
At the top of the motherboard you'll find the DEBUG LED which can read the current CPU temperature awhile also reading off POST codes during the initial power on phase. In addition to the DEBUG LED there are activity LEDs scattered around the motherboard which indicate where the trouble is. For instance if your video card isn't seated properly the VGA LED will activate. Same with Boot (storage), CPU and Memory
At the bottom of the motherboard you'll find the benchtop controls including Power and Reset buttons, CMOS selector switch and Game Boost dial which goes to 11. I don't normally use automagic overclocking since it is difficult to know exactly what it will be doing or what features it will activate depending on the dial selection.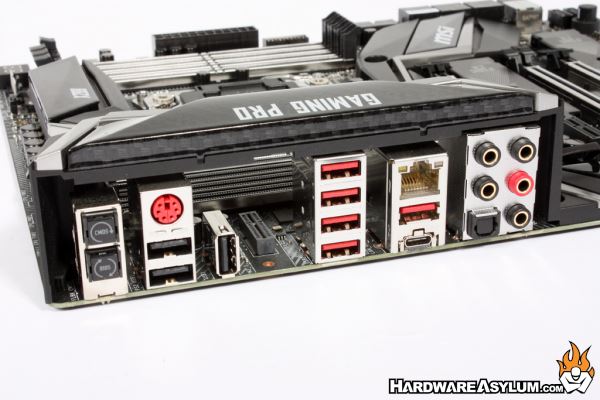 The I/O panel is rather self explanatory and quite sparse for a gaming motherboard. Staring at the left you will find a Clear CMOS and BIOS Flashback button. A PS/2 connector for keyboard and mouse is next followed by two USB 2.0 connectors for low speed devices. Next to that is a vertical USB 2.0 port for the BIOS Flashback feature. The open area is for the onboard WiFi feature that comes standard on the Gaming Pro Carbon AC. USB 3.1 slots are shown in red including a reversible Type-C. MSI is using the Intel controller on this motherboard and gold plated analog audio jacks compliment the 8 channel audio offering with digital connections over optical.