MSI X299 Gaming Pro Carbon Motherboard Review
MSI X299 Gaming Pro Carbon Motherboard Review
Author:

Dennis Garcia
Published:
Wednesday, November 08, 2017

Additional Features
The audio module found on the X299 Gaming Pro Carbon is very unique in that it features the Audio Boost 4 design and occupies a section of the motherboard that is electrically separated from the rest of the main PCB. You can see this separation in the PCB layers where the board is devoid of color.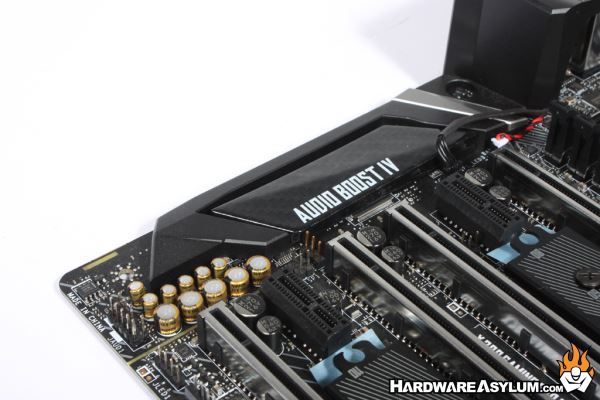 To further illustrate that the layers are completely separate on the reverse side of the motherboard you'll find a series of white LEDs that light up and shine thru the PCB layers when the system is powered on.

The Audio Boost 4 design is powered by Nahimic Sound Technology and comes with a built-in headphone amplifier allowing you to get better quality sound from studio grade headgear which would normally require specialized sound cards.
One of the benefits to upgrading to a specialized motherboard is that not only do you get more features onboard but also in-box. The MSI X299 Gaming Pro Carbon comes with a number of accessories including what you see below.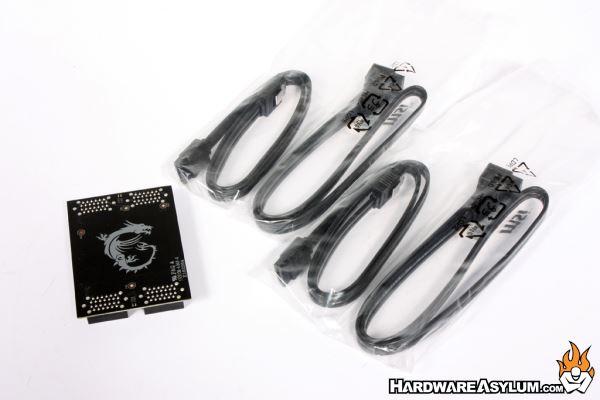 The X299 Gaming Pro Carbon supports three-way SLI despite having four 16x PCI Express slots onboard. Given that two-way SLI is the hot thing supported by NVIDIA you'll find a single SLI bridge in the box with the MSI Dragon across the top.
Along with that you also get an RGB LED extension cable and high quality I/O shield.