Sapphire Pure Black P67 Motherboard Review
Sapphire Pure Black P67 Motherboard Review
Author:

Dennis Garcia
Published:
Monday, February 21, 2011
Introduction
Enthusiast systems have really become a major component in overall motherboard marketing. Given the low margins and stiff competition it's no wonder that some companies have started using the ultra high end as a way to highlight their product lines with no real intention of selling them. As you can imagine this process is extremely expensive so only a select few can afford to give it a try. Most of the mobo makers take a more conservative approach and try to design boards that fit a wide variety of situations. While this makes sense from a sales standpoint you will often miss the few key features that make an enthusiast systems really stand out.

In this review we'll be looking at an Intel P67 enabled motherboard from Sapphire called the Pure Black P67. Sapphire is a well known video card supplier that builds some of the most recognizable Radeon cards on the market. However are not often considered when it comes to motherboards, yet they do exist. The P67 featured in this review is a unique design that combines end-user functionality with flexibility to fit a variety of gaming configurations.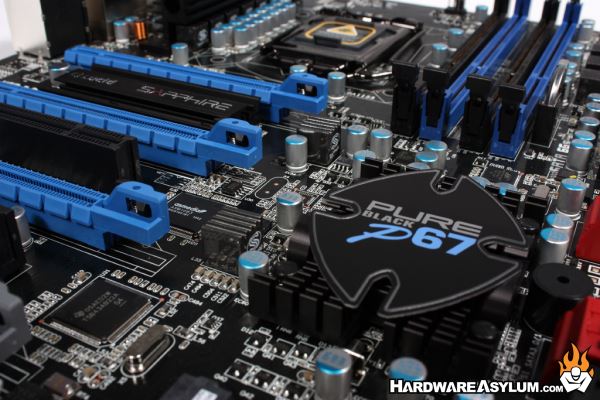 Enthusiast motherboards generally cater to the things that hardware enthusiasts like to do. For instance some like building insanely fast machines with large processors, watercooling and multiple video cards. Other enthusiasts may prefer to overclock their systems and explore the limits of their hardware. Regardless of how the system is to be used it is important to have a solid motherboard with good power delivery to ensure the best possible experience. Of course an often overlooked feature is the overall aesthetics. Do the heatsinks look nice?, does the PCB color complement the expansion slots?, and most of all can you use the board how you want.