Sapphire Pure Black P67 Motherboard Review
Sapphire Pure Black P67 Motherboard Review
Author:

Dennis Garcia
Published:
Monday, February 21, 2011
Multi GPU Index
A new feature we are adding to all of our motherboard reviews is what we call the Ninjalane Mulit GPU Index. The Multi-GPU index is a portable set of data we can apply to determine the multi-gpu potential of any motherboard. A higher index number indicates a favorable condition for multiple graphics cards while a lower number indicates a hindrance in one of our leading indicators. Since the Index does not take into consideration system architecture it can be applied to motherboards regardless of processor or chipset generations.
Multi-GPU Scorecard
Index: 2.75
Optimized: 1x
Max Support: 4x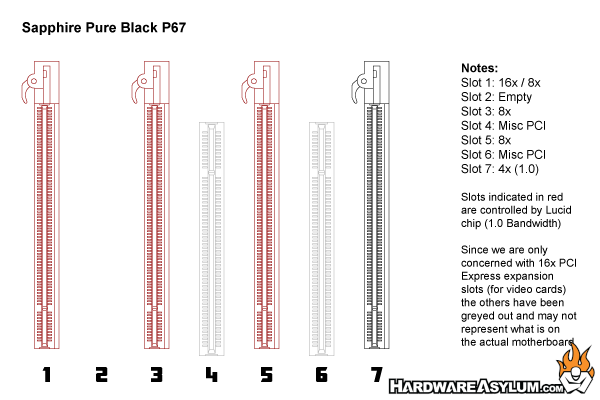 Typically 6-Series systems are only optimized for dual card configurations however when the motherboard maker implements a bridge chip they can divide up PCI Express lanes and offer a multitude of additional configurations. Sapphire has included the HydraLogix 200 chip that will auto configure PCI Express data and provide a generic multi GPU solution to scale graphics performance independent of GPU vendor. The chip comes with 48 lanes of PCI Express following the 2.0 spec, the Lucid 200 cannot overcome the bottleneck back to the CPU but it can provide the bandwidth required to handle multi GPU processing across a maximum of 5 graphics cards.
This motherboard will support up to 4 graphics cards and to help stabilize the system you will need some additional power across the PCI Express circuit, to accommodate this you will find a single molex connection at the bottom of the motherboard. The location means that you'll need a right angle adaptor for most case installations.

For best video performance you'll want to use the topmost video card slot and then any of the blue connectors for additional video cards. When you are running the Lucid engine the top card will become the master and requires more bandwidth which we suspect is why it is hardwired to a full 16x.