ASUS ROG Strix B660-i Mini ITX Motherboard Review
ASUS ROG Strix B660-i Mini ITX Motherboard Review
Author:

Dennis Garcia
Published:
Monday, June 6, 2022

Board Layout and Features Continued
The LGA 1700 supports dual channel memory configurations and can support both DDR4 and DDR5 memory modules. It is up to the board maker to determine which will be available and I am happy to report that the ROG STRIX B660-I supports DDR5 at a maximum density of 64GB at speeds from 4800Mhz to 6200Mhz.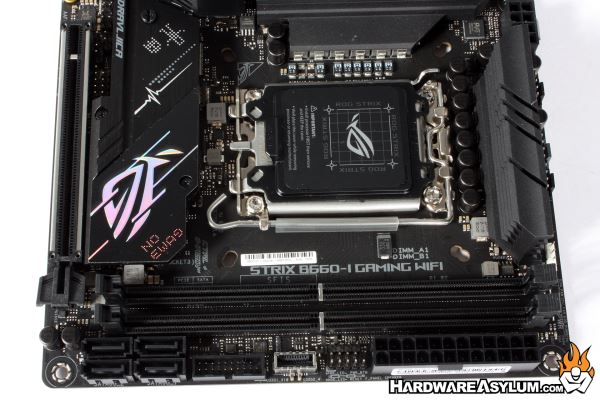 I can attest to 6200Mhz memory support being quite fast and extremely stable. Check out our review of the Viper Gaming Venom 6200Mhz DDR5 memory review for more information.
Below the memory modules you'll find the main 24-pin power connector along with the front panel connector.
Speaking of front panel connector you'll also get this handy cable that extends the front panel pins allowing for an easy hook-up to your chassis front panel controls.
This goes without saying but, the Mini ITX form factor is only allowed a single expansion slot which, not only limits overall expandability but, helps to maintain the ultra slim profile and layout. While the board only comes with a single PCI Express 5.0 slot your chassis will still need to support whatever expansion card you choose to install. For instance a triple slot graphics card will work in this motherboard but your chassis will need to have at least three expansion slots.
Storage
Onboard storage consists of two M.2 slots. You'll find one on the back of the motherboard below the CPU socket. The second is hidden in the same location on the top of the motherboard. You'll need to remove the integrated heatsink to access the actual slot. Not only does the heatsink look good but does wonders for keeping NVMe drives cool.
The Strix B660-I supports up to four internal SATA connections follow the SATA6 connection standard. Next to the SATA connectors you'll find two USB 3.x headers to the right.