ASUS ROG Strix B660-i Mini ITX Motherboard Review
ASUS ROG Strix B660-i Mini ITX Motherboard Review
Author:

Dennis Garcia
Published:
Monday, June 6, 2022

Conclusion
The more I use Alder Lake the more impressed I get with the new Hybrid CPU platform. Of course, to get the most from a new processor you need a motherboard that can take advantage of everything from flat out performance to power efficiency. In this review we looked at the ROG STRIX B660-I Gaming WiFi Mini ITX motherboard. This happens to be one of the smallest motherboards I have reviewed in recent years and by far one of the most powerful with some of the best features.
I mentioned early on in this review how I felt that the Mini ITX form factor was the future for enthusiast level DIY system builds. Now, while that is a rather bold statement when you look at a typical gaming rig you see, a processor, two memory sticks and a single video card. Audio solutions have migrated from discrete cards to external USB sound solutions and with the death of multi GPU gaming there is virtually no reason to have more than one expansion slot on a gaming motherboard.
Of course, as a hardware enthusiast I have a hard time admitting that but, when you compare the performance of the STRIX B660-I against a Z690 and see identical results and higher sound quality scores you have very little to argue about.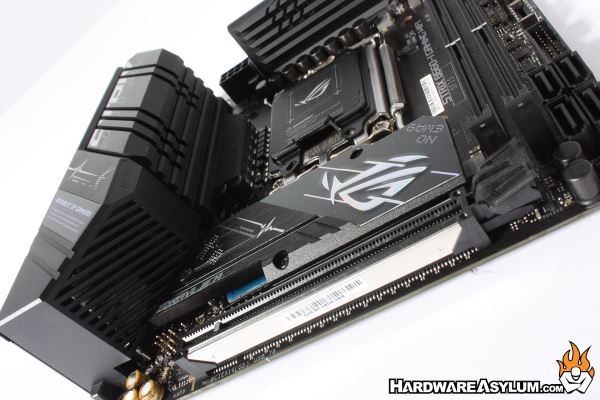 From a performance standpoint I found the STRIX B660-I to have an amazing out of box experience and operated with both 4800Mhz and 6200Mhz DDR5 memory without fail and responded well to basic memory tweaks and overclocks. Unfortunately, ASUS did not enable K level overclocking or BLCK tweaks. I suspect this is a result of the smaller VRM and down-market intention of the B660 series motherboards.
The lack of overclocking support does not bother me on this particular motherboard. Alder Lake doesn't overclock well and is severely heat bound meaning that even with the most basic of overclocks it will throttle down making your 1x multiplier adjustment actually run slower than had you left things at the factory default.
Overall, I am very impressed with the ASUS ROG B660-I Gaming WiFi. The performance was amazing and the onboard features proved that you can pack some amazing quality into an extremely small package and make it better than a full-sized version. If you are looking to build a solid gaming rig using the 12th generation Alder Lake CPUs you deserve checking this motherboard out and matching it will a proper SFF chassis with AIO cooling support. Not only will you get amazing performance but also save on valuable desktop space.
Good Things
Next Generation Design
Solid Performance
Dual CPU Heatsink Support
DDR5 Loves to Overclock
Supports Two M.2 Drives
PCI Express 5.0
Great Onboard Audio
Bad Things
Lack of onboard RGB
No benchtop controls
No CPU overclocking support
Hardware Asylum Rating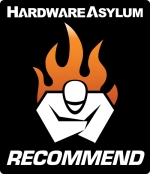 ASUS ROG Strix B660-i Mini ITX Motherboard Review
Recommend
https://www.hardwareasylum.com