ASUS ROG Strix B660-i Mini ITX Motherboard Review
ASUS ROG Strix B660-i Mini ITX Motherboard Review
Author:

Dennis Garcia
Published:
Monday, June 6, 2022

Benchmarks - Real World
Unreal Tournament 3
UT3 is the fourth game in the Unreal Tournament series. It has no story mode gameplay and is exclusively designed for multiplayer action. While the gameplay and weapons are similar to the UT2004 counterpart, the gaming engine is all new. For this benchmark, we're using the UT3Bench tool from Guru3D, and CarbonFire Botmatch to record framerates. The resolution was set to 800x600 to minimize any performance gains from the video card.

CS:GO
Counter Strike Global Offensive is the latest in one of the longest running competitive multiplayer games in existence and played by millions. The formula for the game is simple and to keep gameplay fast and fair it doesn't use many of the modern graphic technologies found in newer AAA titles. For this benchmark we are using the FPS Benchmark map found in the game. The resolution was set to 800x600 to minimize any performance gains from the video card.

Cinebench R20
Cinebench is a real-world cross-platform test suite that evaluates your computer's hardware capabilities. Previous versions of this benchmark are used to collect HWBOT points and it has been a common entry into the competitive benchmarking lineup. This is benchmark is purely CPU based with very little impact related to GPU selection or memory type and one of the best benchmarks for testing multi core processors.

BAPCo SYSmark 25
SYSmark 25 is an application-based benchmark that reflects usage patterns of business users in the areas of Productivity, Creativity and Responsiveness. The new Productivity Scenario has updated workloads and applications geared towards office centric user activities. The new Creativity Scenario features updated workloads and applications geared toward media-centric user activities. The new Responsiveness Scenario models 'pain points' in the user experience. These common activities that include: application launches, file launches, web browsing with multiple tabs, multi-tasking, and background application installation.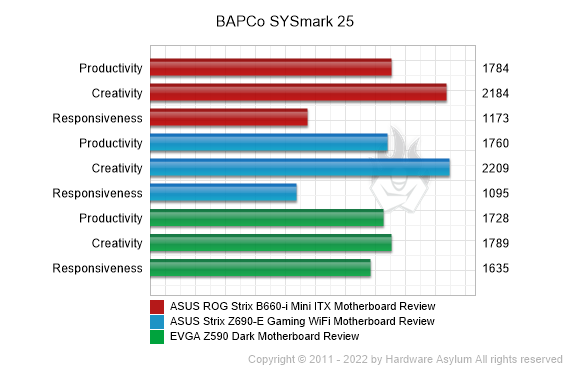 UL PCMark 10
PCMark 10 is an overall system benchmark to measure and compare PC performance using real-world tasks and applications. Similar to 3DMark this new version tests the entire system as a whole using applications that reflect typical PC use in the home and at the office. This approach ensures that PCMark measures the things that matter, highlighting performance differences that will be apparent to end users and consumers.

Real World Conclusion
Our real world benchmarks are designed to illustrate a cross section in performance that covers gaming, video encoding, content creation and everyday office applications. The results are pretty straight forward and show some good numbers across the board and reflect some of what was shown on the Synthetic page. Normally performance differences can be attributed to UEFI tuning and memory compatibility where even the slightest change can have a big impact on real world applications.

It should be noted that DirectX 11/12+ is not represented in our motherboard reviews because the results are almost purely based on the video card selected and very little to do with motherboard performance. Likewise the benchmarks we have chosen respond well to minor changes in memory bandwidth and how efficient the system configuration is overall.
I have been refreshing some of the benchmarks (common thread if you have been reading some of my past reviews) and added a few that don't have any historical numbers. These include BAPCo SYSmark 25, Cinebench R20 and CS:GO. Of them I am really impressed with the new version of SYSmark as it comes with a few tweaked benchmarks to better represent modern computer workloads. It is important to note that benchmarks are only as good as their source AND can only be compared when used in context. So, while I continue to use UT3 in my tests the results are only valid when comparing the current system against others using the same workload.
Finally, we test our systems we do so with the default and auto assigned settings in place so to represent un-turned and out of box performance. (read: default user setups). Your performance may vary depending on the time you spent tuning your hardware.