Creative Sound Blaster AE-7 Hi-Res Sound Card Review
Author:

Dennis Garcia
Published:
Tuesday, August 20, 2019

Introduction
Building and upgrading a PC can be a confusing task especially if you are using impersonal 3rd party tools such as PC Parts Picker or making choices based on what your favorite YouTuber decided to put into their build. Not only will this result in the bare minimum on what is needed but, due to their sponsorship or algorithm being used you might get parts you don't need, parts you may never use or, worse yet, not know about parts you should consider.
One of the most overlooked components in any new build is a sound card. For most they consider the onboard audio option to be adequate while they will argue over processor and video card choice to no end. The truth is, every component is important and just because you are given something as part of your purchase that doesn't mean it cannot be improved.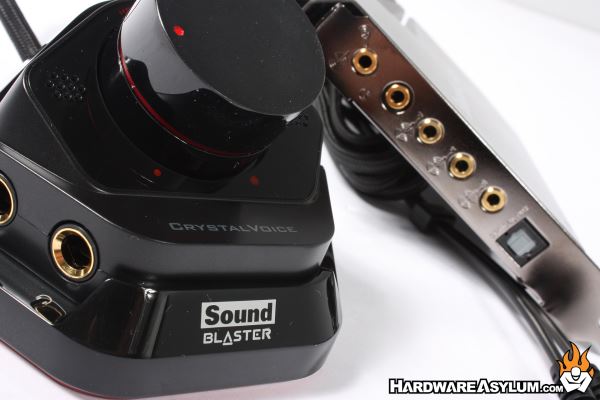 In this review I'll be looking at the new Creative Sound Blaster AE-7. This is the latest in a new line of sound cards from Creative based on the success of the popular Creative Sound BlasterX AE-5 that we reviewed not to long ago.
Specifications
Dimensions
Main Card: 145 x 20 x 128 mm / 5.71 x 0.79 x 5.04 inches, Audio Control Module (ACM): 100 x 92 x 70 mm / 3.94 x 3.62 x 2.76 inches
Headphone Amp
Output Impedance: 1O, Supported Headphone Impedance: 16 - 600O, IEM: 16 – 31O (1.9V RMS), Normal: 32 - 149O (3V Rms), High Gain: 150 - 600O (5.6V Rms)
Audio Technology
Sound Core3D
Direct Mode
Playback Resolution (Stereo): PCM 16-bit / 44.1, 48.0, 88.2, 96.0, 192.0, 384 kHz, PCM 24-bit / 44.1, 48.0, 88.2, 96.0, 192.0, 384 kHz, PCM 32-bit / 44.1, 48.0, 88.2, 96.0, 192.0, 384 kHz, DSD64 (2.8 MHz)
Playback Resolution (Optical Out): 16-bit / 44.1, 48.0, 88.2, 96.0 kHz, 24-bit / 44.1, 48.0, 88.2, 96.0 kHz
Recording Resolution
Mic-in: 16-bit / 16.0, 44.1, 48.0, 88.2, 96.0 kHz, 24-bit / 44.1, 48.0, 88.2, 96.0 kHz, 32-bit / 44.1, 48.0, 88.2, 96.0 kHz
AUX-in: 16-bit / 44.1, 48.0, 88.2, 96.0 kHz, 24-bit / 44.1, 48.0, 88.2, 96.0 kHz
What-U-Hear: 16-bit / 44.1, 48.0 kHz, 24-bit / 44.1, 48.0 kHz, 32-bit / 44.1, 48.0 kHz
DSP Mode
Playback Resolution (Stereo & Surround 5.1)
16-bit / 44.1, 48.0, 88.2, 96.0kHz, 24-bit / 44.1, 48.0, 88.2, 96.0kHz, 32-bit / 44.1, 48.0, 88.2, 96.0kHz
Connectivity Options (Main)
1 x TOSLINK Optical Out, 1x 1/8" Rear Out, 1x 1/8" Center / Sub Out, 1x 1/8" Mic-in / Line-in (Software selectable, default as Mic-in), 1x 1/8" Headphone / Headset Out (default as Headphone), 1x 1/8" Front-out
Connectivity Options (Accessory)
1x 1/8" Mic-in (Mono), 1x 1/8" HP Out (3-pole), 1x 1/4" HP Out (3-pole), 1x 1/4" Mic-in (Mono)
DAC
THD+N (Stereo) : 0.0001%
Power
PCI-e bus power
Recommended Usage
Gaming