Creative Sound Blaster AE-7 Hi-Res Sound Card Review
Author:

Dennis Garcia
Published:
Tuesday, August 20, 2019

Testing the Sound Blaster AE-7
Given that I was already very familiar with the BlasterX AE-5 I decided to test the Sound Blaster AE-7 in a very similar manner. Testing was performed over a two week period where I used the AE-7 in conjunction with a Sound BlasterX H5 Gaming Headset and on a desktop 5.1 speaker system from Logitech. During this time I tried a variety of different settings all based on some of the default profiles and a few that I had created myself.
Overall I found the audio reproduction to be extremely good with excellent imaging both in virtual surround and standard stereo. Audio amplification was also very good as the built in amplifier drove the Blaster H5 Gaming Headset quite well.
32-Bit 384kHz playback is supported on Windows 10 using the latest Sound Blaster Connect driver. Unlike with some of the lower bit-rates you need to configure the playback using the Windows interface and have the Sound Blaster AE-7 configured in direct mode. That will bypass any Sound Blaster audio effects and send the smooth bit-rates directly to your ears.
Personally I prefer to have the audio effects enabled, at least when playing games, as it provided more audio depth when compared to the default windows audio, even at the higher bitrates.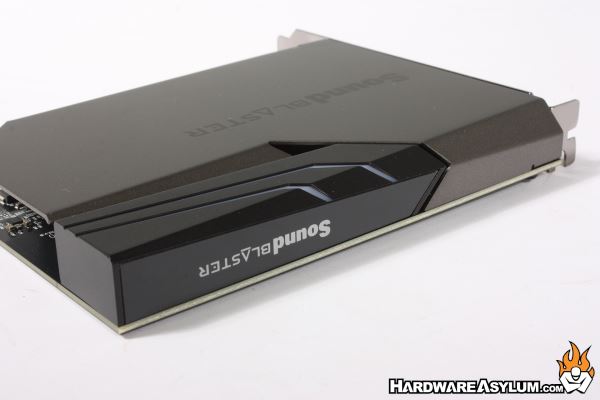 During my testing period I simply played a bunch of games. Nothing special but, I paid special attention to sound quality and positioning making sure I could identify where sounds were coming from and how distinct they were. Overall I found headphones to be passable with a very narrow sound stage and not much in terms of "depth" for positional audio. This improved dramatically when I switched to desktop speakers.
To be honest I noticed a very similar interaction when testing the BlasterX G6 against the AE-5. In that situation the AE-5 was not good when it came to headphone imaging where the BlasterX G6 Headphone DAC with built in support for 7.1 channel sound really excelled. This is a prime example of hardware specialization and how similar products can be tuned for different purposes.
No Audio review would be complete without a sound test and for this I used the RightMark Audio Analyzer. This test was performed using a loopback cable which is basically a jack that connects the analog line-out plug back into the analog line-in. That way we can remove almost all of the variables and concentrate on what is actually being reproduced and recorded.
Specs
Frequency response (from 40 Hz to 15 kHz), dB: +0.16, -1.80 - Average
Noise level, dB (A): -93.9 - Very Good
Dynamic range, dB (A): 93.8 - Very Good
THD, %: 0.011 - Good
THD + Noise, dB (A): -76.1 - Average
IMD + Noise, %: 0.078 - Good
Stereo crosstalk, dB: -45.0 - Poor
IMD at 10 kHz, %: 0.013 - Very Good
General performance Good
For the RightMark test I disabled all of the audio processing and set the output to Stereo. Both input and output frequency responses were defaulted 24-Bit/48kHz which was then programmed into RightMark.
The results tell an interesting story where none of the recorded specs match what was advertised. After several tweaks I was able to get the result above with a Good rating which is a middle of the road score. With many highly digital sound processors it is not uncommon to see real world scores be different from what is advertised. For instance with many multi channel sound cards using layered audio processors the stereo crosstalk is often very poor. This is just due to how imaging works over two channels and while it brings down the overall score it sounds just fine.
This is also true if you don't disable the layered audio processors such as the Creative SBX Gaming Profiles as they really mess with how the audio is delivered to the speakers and will not test very well when using the Rightmark software.