Creative Sound Blaster AE-9 Ultimate Sound Card Review
Author:

Dennis Garcia
Published:
Tuesday, April 28, 2020

Introduction
Sound Cards are by far one of the oldest computer accessories and one of the most important for enjoying computer games. Early computers offered an integrated sound solution and these technological advances allowed games to offer more complex sound effects and music in games. When the first DIY computers were being built sound was a luxury in the form of an expansion card. These cards allowed users to swap in better devices and, much like the modern day GPU, quality counts.
Creative is the defacto name when it comes to sound solutions, they made the sound blaster a household name and were the first to make the sound card something more than a device to play music.
In this review we will be looking at the Sound Blaster AE-9. This is the ultimate in 32-bit audio processing that combines features found separately in almost every Sound Blaster product into a single product. In fact this device reminds me of some historical Sound Blaster products that offered flexibility to the user by breaking out many common connections.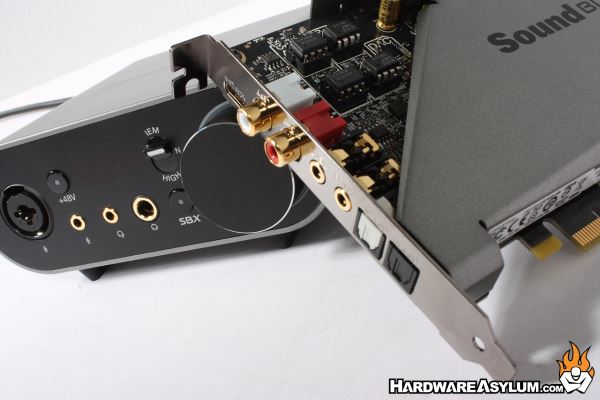 A good example of this is the Sound Blaster Audigy 2 ZS. This sound card offered onboard Firewire full surround sound and a break out panel allowing users to connect high quality headphones, MIDI devices, digital devices and auxiliary analog connections. Combined this turned an ordinary PC into a full content creation station complete with gold connectors and direct access to optical media.
Sadly the Audigy 2 ZS is a product for the history books and many motherboards have onboard audio to rival that of any discrete audio card so how do you push the envelope with a sound solution?
Let's find out starting with the Specifications
Specifications
Weight
Main Card: 230g, Audio Control Module (ACM): 480g
Dimensions
Main Card: 178 x 22 x 127 mm, Audio Control Module (ACM): 150 x 128 x 65 mm
Headphone Amp
Output Impedance: 1Ω, Supported Headphone Impedance: 16–600Ω, IEM: 16–31Ω (1.5V Rms), Normal: 32–149Ω (3V Rms), High Gain: 150–600Ω (5.3V RMS)
Audio Technology
Sound Core3D
Direct Mode
Playback Resolution (Stereo): PCM 16-bit / 44.1, 48.0, 88.2, 96.0, 192.0, 384 kHz, PCM 24-bit / 44.1, 48.0, 88.2, 96.0, 192.0, 384 kHz, PCM 32-bit / 44.1, 48.0, 88.2, 96.0, 192.0, 384 kHz, DSD64 (2.8 MHz)
Playback Resolution (Optical Out): 16-bit / 44.1, 48.0, 88.2, 96.0, 192.0kHz, 24-bit / 44.1, 48.0, 88.2, 96.0, 192.0kHz
Playback Resolution (Surround 5.1): PCM 16-bit / 48.0, 96.0, 192.0kHz, PCM 24-bit / 48.0, 96.0, 192.0kHz
Recording Resolution
Mic-in: 16-bit / 16.0, 44.1, 48.0, 88.2, 96.0 kHz, 24-bit / 44.1, 48.0, 88.2, 96.0 kHz, 32-bit / 44.1, 48.0, 88.2, 96.0 kHz
AUX-in: 16-bit / 44.1, 48.0, 88.2, 96.0, 192.0kHz, 24-bit / 44.1, 48.0, 88.2, 96.0, 192.0kHz
Optical In: 16-bit / 44.1, 48.0, 88.2, 96.0, 192.0kHz, 24-bit / 44.1, 48.0, 88.2, 96.0, 192.0kHz
DSP Mode
Playback Resolution (Stereo & Surround 5.1): 16-bit / 44.1, 48.0, 88.2, 96.0kHz, 24-bit / 44.1, 48.0, 88.2, 96.0kHz, 32-bit / 44.1, 48.0, 88.2, 96.0kHz
Platform
PCI-e
Connectivity Options (Main)
1 x TOSLINK Optical In, 1 x TOSLINK Optical Out, 1 x 1/8″ Rear Out, 1 x 1/8″ Center / Sub Out, 1 x ACM Link, 1 x 6-pin PCI Express (PCI-e) Power Header (required for ACM), 2 x RCA (L/R) Front Out
Connectivity Options (Accessory)
Line In: 2 x RCA (L / R)
1 x 1/8″ Mic-in (Mono)
1 x 1/8″ HP Out (3-pole)
1 x 1/4″ HP Out (3-pole)
Headphone Amp
Output Impedance: 1Ω, Supported Headphone Impedance: 16–600Ω, IEM: 16–31Ω (1.5V Rms), Normal: 32–149Ω (3V Rms), High Gain: 150–600Ω (5.3V RMS)
Audio Technologies
CrystalVoice Scout Mode DTS Connect Encoding Dolby Digital Live Encoding
Supported Operating Systems
Windows® 7, Windows® 8, Windows® 8.1, Windows® 10
DAC
Dynamic Range (Stereo) : 129 dB, THD+N (Stereo) : 0.0001%
ADC
Dynamic Range (Stereo) : 123 dB, THD+N (Stereo) : 0.0004%