Creative Sound Blaster AE-9 Ultimate Sound Card Review
Author:

Dennis Garcia
Published:
Tuesday, April 28, 2020

Card Layout and Features
The Creative Sound Blaster AE-9 is a compact sound card similar to the AE-5 measuring 7 inches in length. A metal cover is used to protect the audio components and serves as a decorative item. You will find large Sound Blaster logo in the middle for some added decoration and branding.
Flipping the card around you'll find additional graphics on the PCB and a bare section with the AE-9 logo. Similar to the audio separation channels on certain motherboards this allows LED lights to shine through the board and illuminate the logo and upper corner of the card.
Unlike on the mainstream AE-5 there are no RGB LEDs on this card leaving the card to be pure in its ability to deliver smooth sounds without the popular fluff gamers have come to expect.
As with any sound card you have to make sure the right connections are made for best quality sound. Hooking up the AE-9 was pretty easy but not completely straight forward given the addition of two RCA jacks. To make things a little easier Creative has included an excellent product guide that addresses every connection on the AE-9 so be sure to consult the guide when configuring your system.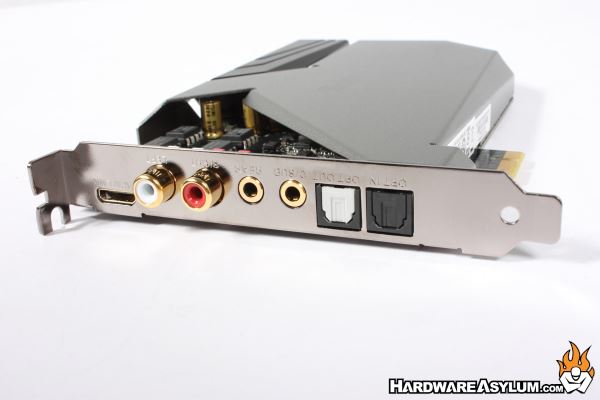 From the left the first port you will find is the ACM Link Port and is used to connect the AE-9 to the Audio Control Module (ACM). Next to that you'll find two RCA plugs which are analog Left and Right. Creative has included a "Y" cable allowing you to bind these connections together for hooking into desktop audio. Of course, if you are using a pro audio solution you can connect them directly. Next you'll find two 1/8" audio ports for your Rear Surround and Center Channel/Subwoofer connections.
The final two connections are optical Input and Output for AV receivers and other digital audio configurations.
AE-9 only supports 5.1 channel audio using the analog connections. While this seems limiting it is perfect for the majority of all desktop PCs.
A great feature of the Creative Sound Blaster AE-9 is the inclusion of an Audio Control Module (ACM) which acts as a remote connection for headphones and microphones. These connections go well beyond the normal to include many pro-audio solutions that most gamers and streamers cannot use without an external audio interface.
The Audio Control Module features a XLR microphone connection with dual input allowing for the standard 3-pin cable or a 1/4" jack. For condenser style microphones a phantom power button is available.
Next to that are some standard connections including a smaller 1/8" microphone jack, combined jack for gaming headsets and a 1/4" headphone jack. Each of these ports can be mix and matched but on a single pair for headphones and microphones can be used at a time. A three position switch is located above the SBX button will set headphone impedance between a range of 12Ohm and 600Ohm.
The large volume knob doubles as a selector switch between speaker and headphone output and will interface directly with the Sound Blaster Command software. Between the Phantom power and impedance selector switch is a digital display that will indicate which output is selected and what the current volume is.
Flipping the ACM around you'll see two additional auxiliary inputs and the ACM connector cable. Sadly this cable is not removable and uses a specialized connection to the AE-9 sound card.