Creative T100 Compact Hi-Fi 2.0 Desktop Speaker Review
Author:

Darren McCain
Published:
Tuesday, February 04, 2020

Introduction
Creative may be most famous for their Sound Blaster audio cards but that's just the tip of the iceberg! Today we will be taking a closer look at the latest from their award winning line of Compact Hi-Fi 2.0 desk top speakers; the Creative T100.
Many of you may already be familiar with the previous entries in the T series. The T20 and T40 Series speakers are sold under the GigaWorks branding and have been wowing laptop and PC users for years! The CreativeT100 speakers may have dropped the GigaWorks label but they represent the next generation of compact audio performance.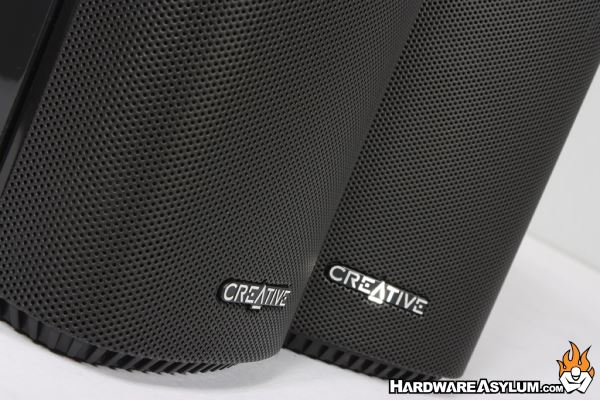 It's pretty hard to ignore the updated design of the T100 speakers. Gone are the exposed speakers and dials having been replaced with a slick black on black design and new Creative branding. Right out of the box they just look more sophisticated.
Let's take a look under the hood via the specifications!
Specifications
Dimensions (H x W x D): 216 x 90 x 123 mm (8.5 x 3.5 x 4.8 inches) each
Cable Length:3.5 mm AUX-in Cable: Approximately 1.5m / 4.92 ft / AC Power Adapter Cable: Approximately 1.5m / 4.92 ft / Right to Left Satellite: 2.0m (6.56 ft) cable moulded to Left Satellite
Weight: 1.0 kg (2.2 lb) each
Power Output: 2 x 20W RMS, Total System Power: Up to 40W RMS, Peak Power 80W
Drivers: 2 x 2.75″ Full-Range Driver
Frequency Response: 50 Hz ~ 20 kHz
System Configuration: 2.0 system
Signal-to-Noise Ratio (SNR): ≥ 72 dB
Bluetooth Operating Frequency: 2402 – 2480 MHz
Operating Range for Bluetooth Devices: Up to 10 meters / 33 ft, (Measured in open space. Walls and structures may affect range of device.)
Bluetooth® Version: Bluetooth 5.0
Bluetooth Profile: A2DP (Wireless Stereo Bluetooth)
Supported Codecs: SBC
Connector Type: Bluetooth, AUX-in, Optical-in
Color: Black
Remote Control: Infrared
Design: BasXPort
Other Features: Compatible with USB mass storage devices of up to 32 GB, FAT32 format, Supports Optical Input (for TV)
Creative is the worldwide leader in digital entertainment products. Founded in Singapore in 1981, Creative started with the vision that multimedia would revolutionize the way people interact with their PCs.
Famous for its Sound Blaster sound cards and for launching the multimedia revolution, Creative is now driving digital entertainment with cutting-edge audio solutions, premium wireless speakers, high performance earphone products and portable media devices. The company's innovative hardware, proprietary technology, applications and services enable consumers to experience high-quality digital entertainment - anytime, anywhere.
Since launching the phenomenally successful Sound Blaster sound cards and setting the de-facto standard for PC audio in 1989, Creative has been able to leverage on its leading-edge audio technology, a huge user base of 400 million, and strong brand name to expand into the exciting lifestyle Personal Digital Entertainment (PDE) market.